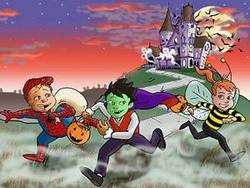 Users submitted the tips we have listed, so I think they best reflect what real people are thinking each season.
(PRWEB) October 15, 2007
Online Discount Mart (http://www.onlinediscountmart.com/)], a top retailer for home and garden products has released its 2007 list of the top Halloween tips, as submitted by its visitors. It has broken them down into categories such as safety, decorating, costumes and trick or treating tips.
"Our hope is to keep the public reminded that Halloween is both about fun and safety for the kids," said Johann Erickson, owner of Online Discount Mart. "Users submitted the tips we have listed, so I think they best reflect what real people are thinking each season."
Some of the tips are simple, such as not allowing kids to carry around fake weapons such as guns or knives, that look real. Others remind you to keep your children safe by adding reflective tape or markings to their costumes so that they can be seen at night.
Along with these Halloween tips and ideas, Online Discount Mart is also unveiling a new look to its website with improvements to enhance the user experience.
"We've implemented an automatic rain check feature that will let people put their name on a waiting list for out of stock products; so that they are guaranteed to get the same sale price if we happen to run out of an item," said Erickson.
Online Discount Mart has also improved the navigation of the site, making it easier to find the products customers are looking for and is implementing more end user support for products as well.
"We will be adding features to not only help people get the products they want, but help them with making sure its the right item for them. For instance, during spring and summer a lot of our customers shop for bird baths, so we are going to help them select the right one for their yard. By telling them which one attracts which birds, where to place it to attract them and how to care for their bird bath so it maintains a good look for years to come."
The features will continue to be rolled out over the course of a few months and Erickson hopes they will be appreciated by their customers.
Online Discount Mart is a 24-hour/7-day-a-week home & garden store that went online in 2001 and currently features over 7,000 products, including garden decorations, home decor, bathroom items, and many others.
Johann Erickson
813-621-1500
marketing(@)4intrepid.com
###