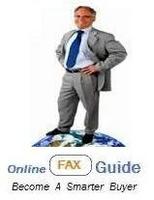 Discover 5 Ways Online Fax Can Make Any Company More Efficient.
(PRWEB) February 16, 2011
A new video entitled "5 Ways Online Fax Can Make Any Company More Efficient" has just been released by Onlinefaxguide.com, an online fax services comparison site. This new video shows five reasons why using an online fax service can make any company more efficient.
This short video will prove helpful to those individuals and companies who are considering an Internet Fax Service but who are still undecided about its usefulness. They can plainly see the benefits spelled out in this video: cost-effective, portable, paperless and completely scalable are just the starting points.
"Many companies are enjoying this increased efficiency and productivity," says Titus Hoskins, a former teacher who now runs the popular online web portal. "Especially for those companies which use faxing to bring in new sales and clients; going with an online solution does make a difference, especially when you consider the fax broadcast option."
Any company can save time by importing their contact lists into their online account and can contact thousands with one click of the mouse. An online fax service will also make all your communications completely portable, accessible anywhere you have an Internet connection.
This means no more missed faxes because of busy signals or paper jams, you can send and receive your faxes, 24/7, 365 days of the year. This also means your company is reachable and open for business around the clock. For this reason alone many companies are going with these new paperless fax services.
Another major benefit is the lower pricing since you will save on the cost of papers, inks and toners. Plus, you don't need a dedicated fax phone line since everything is handled online. For these reasons, using an online service is much less expensive than using a traditional fax machine.
Throw in the fact that using an online fax service completely digitizes all your messages and incorporates them into your whole computer system and you have a winning formula. Your faxes can be easily stored, filed and retrieved within seconds, regardless if you received them yesterday or six months ago.
When you also consider the fact that these online fax services are completely scalable, you can quickly increase or decrease your number of fax lines depending on the business climate, then these services can indeed make any company more efficient.
You can view the fax video here: online fax videos.
For further information on this new Fax Video and Online Fax Services in general, please visit our site:
Online Fax Services Comparison..
###