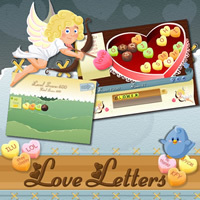 Valentine's Day isn't just for couples
Colorado Springs, CO (PRWEB) February 5, 2008
Jenkat Media, Inc., a leading casual game developer and distributor, founded by veterans of Fox Interactive Media and Intermix Media (parent company of MySpace.com), today announced the release of Love Letters , a free online word game just added to the JenkatGames.com lineup. The Valentine's Day treat comes wrapped in a virtual heart-shaped box, where players choose and arrange letters from the candy hearts to spell romantically-themed words from their word list.
The "word list of love" offers romantic word choices that players have to try to spell using the available candy heart letters. A different word goal is set for each level. Not all words in the list can be spelled with the given candy combinations, so users have to first identify the best romantic word choices and then spell them correctly before time runs out. By placing letters in color chains, players can earn more points. In traditional Valentine's Day fashion, Love Letters comes equipped not only with sweet words of love, but with chocolate truffles. Just as decadent truffles can score a man extra points with his Valentine's date, including the chocolate truffle letters will earn the players various score multipliers to drastically increase their points at the end of each round.
"Valentine's Day isn't just for couples," said Malcolm Michaels, President and Co-founder of Jenkat Media. "Couples and single romantics can enjoy a quiet night in playing Love Letters to enjoy the spirit of the holiday and satisfy their passion for word games."
Love Letters is a free online game. Registration is not required to play, but players are encouraged to register if they want to accrue "winks" based on their game play. Winks are a virtual form of currency for Jenkat Games.
About Jenkat Media:
Based in Colorado Springs, Colorado, Jenkat Media has over ten years of collective experience as a developer and publisher of socially-based websites and casual games built on multiple platforms (including PC and mobile devices). The management team at Jenkat Media has previously created and produced over one hundred casual game titles, which have been played online over one billion times worldwide, resulting in multi-million dollar revenue streams.
###