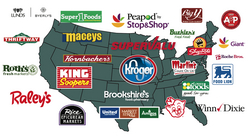 (Vocus) November 1, 2010
MyWebGrocer, with the nation's largest online grocery audience, has announced tremendous growth in the reach of its advertising platform. The company's audience was already the largest in the nation at 2.4 million unique grocery shoppers and planners. Now that number has grown to 5.3 million people, more than doubling the total and cementing MyWebGrocer's position of leadership in the market.
MyWebGrocer CEO Rich Tarrant attributed the company's success and enhanced reach to the addition of new grocery retailers, as well as the expansion of relationships with existing clients. "Major retailers have seen the value that MyWebGrocer brings to their efforts to connect with customers. Grocery giants like Kroger, which has 17 different retail banners, Winn Dixie, and Food Lion and Bloom, have all joined the MyWebGrocer network this year," said Tarrant.
"At the same time, our existing clients – retailers like A&P, Raley's and others – are taking advantage of our new digital tools, giving them greater possibilities for targeted ad placements at the point of decision. The combination is fueling amazing growth for our Retailers' and MyWebGrocer while also satisfying increased demand from CPG advertisers."
Those advertisers have also taken note of MyWebGrocer's ability to connect with consumers as they move steadily to the digital space. MyWebGrocer has seen the number of campaigns running on its network grow by 121% this year, as key advertisers like P&G, Kellogg's, Kraft, Campbell's, Nestle, and SC Johnson have entrusted more advertising dollars to the MyWebGrocer network.
MyWebGrocer's audience at 5.3 million unique visitors is based on comScore's September 2010 Media Metrix report for the potential reach of MyWebGrocer Media. Among all ad-supported properties measured by comScore, MyWebGrocer ranks ahead of sites such as About.com Food, Martha Stewart Sites and FoodBuzz to name a few. A complete map of MyWebGrocer's retail partners can be found at http://www.mywebgrocer.com/OurReach.aspx.
About MyWebGrocer:
MyWebGrocer drives digital connections between consumers, grocery retailers, and Consumer Packaged Goods brands. MWG creates and manages digital solutions for clients including websites, digital media, online circulars, email marketing initiatives, mobile applications, social media strategies, and customer acquisition programs. MyWebGrocer works with more than 110 retailers nationally, representing more than 10,100 stores, and operates the largest grocery ad platform in the nation. For more information, visit http://www.mywebgrocer.com
###