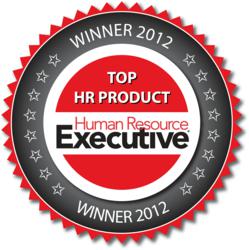 getEASyView gives employers greater confidence in who they hire, by quickly identifying the best candidates.
Chicago, IL (PRWEB) October 11, 2012
Employment Technologies Corporation, the world's leading expert in simulation-based assessments, this week announced that its new getEASyView.com online interview platform was recognized as a 2012 Top HR Product of the Year by Human Resource Executive®. Founder and president Joseph Sefcik accepted the award Monday at the 15th Annual HR Technology Conference in Chicago.
As a five-time winner of the prestigious Human Resource Executive Top Product of the Year, this award marks the second consecutive year that Employment Technologies has received top honors, including last year's Top HR Product of 2011, Virtual Customer Simulation.
"It's an honor to receive our fifth Top Product of the Year award from Human Resource Executive," explains Sefcik. "Employment Technologies is recognized for setting the standard for simulations in our industry, and this award reflects our team's ongoing commitment to create the most innovative simulation experiences that consistently deliver unparalleled accuracy and convenience."
getEASyView gives employers greater confidence in who they hire, by quickly identifying the best candidates. With a click of a button, getEASyView's custom avatar automatically leads candidates through the interview process. Employers then have instant access to candidate responses so they can quickly listen, compare responses, or share responses online with other decision makers. getEASyView can be set up in minutes, with no software to install and no special equipment needed. The new online interview platform offers employers the latest interview technology that's easy to use and affordable for any size company and any type of job.
"Human Resource Executive® has been evaluating HR products and conducting this competition for 24 years," explains David Shadovitz, editor of Human Resource Executive. "Our goal has always been to identify products and services that clearly offer value to the HR community while demonstrating innovation. Seeing getEASyView in action, it's 'easy' to understand how this product is a major benefit for hiring managers and recruiters. getEASyView delivers a real sense of the job candidate without the high cost and hassles of face-to-face interviewing. Plus, users can check out the interviews 24/7, a tremendous benefit and time-saver."
For hassle-free interviewing—get EASyView! Try it free by visiting getEASyView.com or call 866-919-0095.
About Employment Technologies
Employment Technologies Corporation is the pioneer and world's leading developer of simulation-based screening tools. Our new getEASyView.com platform makes it easy for companies to set up and use virtual interviews online. The flexible platform offers preset, blended, and fully customized interview solutions. getEASyView interviews are proven to select higher caliber candidates while cutting administrative time and costs. getEASyView starts with packages as small as 10 interviews and offers increasing savings for larger volumes. For more information, visit http://www.getEASyView.com or call 866-919-0095.