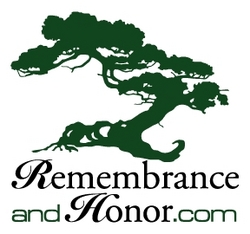 Keep the memories alive...they are treasures of the heart.
Orlando, FL (PRWEB) November 2, 2010
Share cherished memories of a loved one that has passed away. Don't let distance be a barrier. Create a virtual joining together of family and friends from all over the world easily and affordably with Online Memorial Tributes & Obituaries. Remembrance & Honor LLC, is an interactive, secure website that provides beautifully designed, themed Memorial Tributes featuring angels, oceans, mountains, flowers, nature and numerous other designs to fit almost any personality or lifestyle.
Share memories of a lifetime with friends and family near and far through an online Memorial Tribute that features a treasured pictures, videos and music. http://www.remembranceandhonor.com also features a live chat room to enhance the ability for interactive communication in live time on the site, a guest book for visitors to sign and share condolences when they visit a Memorial Tribute, plus a gift shop to send flowers and unique gifts of remembrance worldwide. Each Memorial Tribute features up to 100 photos in a slide show with captions, up to 30 minutes of video and audio, a live chat room, a guest book for visitors to sign when they visit. The "Invite a Friend Email" feature on the Memorial Tribute provides the ability to easily contact family and friends via email to communicate the passing of a loved one in a fraction of the time it would normally take. Information such as time and place of the visitation, funeral services and wake is organized in the Memorial Tribute with a convenient "Map It" link to assist with directions to the memorial services. Plus, online Memorial Tributes are a beautiful way to share memories and connect with people all over the world.
With prices for a Remembrance & Honor Memorial Tribute starting at only $3.89 for one month, no one offers a better price with more interactive features to enhance the ability to easily communicate worldwide so affordably. There are no extra charges or upgrades; one flat fee is all you pay for a full featured package. To receive one month FREE with ay purchase, use Promo Code: Welcome2010.
Privacy and security are important. http://www.remembranceandhonor.com Online Memorial Tributes and Obituaries are secure; only guests invited by the host of the Memorial Tributes and the host can block unwanted visitors access. The Memorial Tribute is not available to be viewed by the general public but may be shared through Share+ on Facebook, Twitter, etc. Secure payments are made via PayPal; http://www.remembranceandhonor.com does not retain or have access to any credit card information and is a McAfee Secure website that is tested daily for security.
###