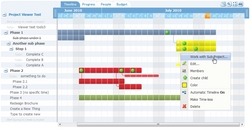 Does your Project Management Software do CRM? And does your CRM do Billing?
New York, NY (PRWEB) July 21, 2010
WORKetc founder, Daniel Barnett, today claimed that small business and distributed teams were increasingly running into costly problems when signing up to multiple Software-as-a-Service offerings.
"What we are seeing time and time again are business owners that have read the latest review and signed up for web based CRM software." said Barnett. "They have then decided they need project management software nd then billing software and any number of different offerings. But before they know it, they find their business is paying for 5 or 6 different software tools and are now facing expensive integration headaches. Any advantages that cloud computing are supposed to offer is quickly eroded."
Frustrated with being unable to find the tools to manage a distributed team across his business, Barnett set about developing what has now become the WORKetc unified small business management platform available at http://www.WORKetc.com
"The questions that business teams must answer before signing up for a new service are very simple. Does your Project Management Software do CRM? And does your CRM do Billing? And is all this available on the single web platform? "
"And it is not just about cost savings or efficiencies of doing everything on the single platform." Barnett explained, adding, "When you combine key software tools like CRM, Project Management and billing, you have real-time insight into your business. For example, a single customer in your business may be a sales opportunity, have a project underway, a support request for their recent purchase and an overdue account. Try accessing all that information on the cloud without having to resort to a messy integration that might include Salesforce with Basecamp, Quicken and any number of other tools".
WORKetc is a complete small business solution, integrating CRM with project management and billing in the single online platform. We want our customers to sit back at the end of the day and think "today was just a little bit easier than yesterday because of WORKetc".
WORKetc CRM + Projects is available at http://www.WORKetc.com – 14 day free trial, no credit card required.
###