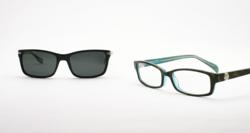 With the launch of Ochiwear, we have the opportunity to provide that same quality and customer-focused approach to everyone in the U.S.
St. Louis, Missouri (PRWEB) March 07, 2012
Founders, Dr. Traci Hahn and designer/artist, Andy Hahn, combined their passions for better eyecare and fashion when opening Contemporary Vision Center. Now with Ochiwear, they have their sights on improving quality and accuracy of online prescription eyeglasses. "We always knew we could provide better eyecare to St. Louis if we just focused everything towards putting the patient first," says Dr. Traci Hahn. Andy Hahn adds, "With the launch of Ochiwear, we have the opportunity to provide that same quality and customer-focused approach to everyone in the U.S."
Accuracy of Online Eyewear, Historic Issues, Huge Opportunities
Online prescription eyewear is not a new concept, but it has been gaining popularity, especially with younger consumers who are used to buying everything online. Unfortunately, being mostly unregulated, many companies have entered the online eyewear market without the proper professional background that is needed in a specialty like prescription eyewear.
The results, per a study in 2011, were clear inaccuracies. That study, published by the Journal of the American Optometric Association, concluded that, "Nearly half of prescription spectacles delivered directly by online vendors did not meet either the optical requirements of the patient's visual needs or the physical requirements for the patient's safety." Dr. Traci Hahn saw this as an opportunity for improving the online eyewear industry, by bringing her professional oversight and unwavering standards of care and service.
Their boutique is building a reputation for unique fashion eyewear in St. Louis, with eye glasses brands like Gucci, Dior, Fendi and Hackett London. Online with ochiwear.com, they are aiming at a broad selection of fashion and designer eye glasses with a large core of value priced, yet stylish, frames. With affordable lens options, complete pairs start at just $99, with FREE shipping and returns. Plus, they donate a portion of every online sale to a charity of the customers' choice.
About Ochiwear
You expect value online, but at ochiwear.com you get value along with their unique twist of style and professional quality -- something that consumers won't find at most of the online prescription eyewear sites.
With complete pairs starting at $99, consumers find a great stylish pair of glasses without breaking the bank and from an online source they can trust. Plus, with designer brands like Kate Spade, Banana Republic, Tommy Hilfiger, Hugo Boss, Juicy Couture and more, trend setters and fashionistas alike will have a great time browsing for a new pair … or two.
Ochiwear was founded by two ambitions and focused individuals, Dr. Traci Hahn, owner and optometrist at Contemporary Vision Center, and her husband, Andy Hahn, designer and artist. Together they balance their passions for quality and accurate eyewear with style, fashion and everything trendy.
About Contemporary Vision Center
Healthcare has lost the word "care" in most instances, but not at Contemporary Vision Center. Guided by Dr. Hahn's passion and unwavering standards of care and service, Contemporary Vision Center is reinventing eyecare in St. Louis. Founded in 2010, Contemporary Vision Center, combined with, co-owner, Andy Hahn's since of style and brand, is becoming a popular destination for fashion seekers as well as people just fed up with bad service elsewhere.