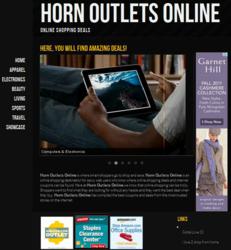 the premier online shopping destination for savvy web users who know where online shopping deals and internet coupons can be found.
Columbus, Ohio (PRWEB) September 29, 2011
HornOutletsOnline.com is a site that makes online shopping easier, quicker, and with better shopping results, at industry leading stores, making life a little easier for the time-crunched web savvy consumer. The Internet has changed many things in our lives, including the when the consumer shops, the way they shop, and the bargains available. Gone are the days when shopping meant standing in long lines at the checkout counter, walking around for hours, and driving all around town just to find the right store. The Internet has made it possible to do all shopping right from home and that is where HornOutletsOnline.com takes online shopping to the next level.
Simply do not have time or desire to head out to a mall? Online shopping makes it possible to browse hundreds of products and stores right from the comfort home. HornOutletsOnline.com now makes the online shopping experience even better by offering ways to take advantage of many online coupons, sales, and deals all in one place. In addition HornOutletsOnline.com, click over to see iLove2ShopFromHome.com for a wider variety of online stores.
Discovering the Savings
HornOutletsOnline.com brings the best stores from Apparel, Electronics, Beauty, Travel, Living, Sports, and yes, even Amazon! Many people know that online shopping can be fast and convenient. What many people may not realize is that there are literally hundreds coupons, sales, and deals waiting to be used at a site that constantly scrubs the Internet to find the best deals to enjoy – that site is HornOutletsOnline.com. Most online vendors may provide either hidden links or secret codes so that customers can get discounts or free shipping on their purchase: if they can find them. From the vendor's point of view, that makes a lot of sense as they provide a strong incentive for the customer to return. From the consumer's point of view, these discounts mean savings each time they shop online. From the perspective of HornOutletsOnline.com, making sure every sale, coupon, or deal is readily available and that these discounts show up immediately is our pleasure. No longer is there a need to stand in long lines only to hear, "I am sorry, that coupon is expired."
Is there a drawback for the consumer to try to search for sales, and online coupons looking for the best deal? No, that is if time is unlimited. It is probably the fact that there are so many of them out there, that if the consumer thought sifting through magazines and newspapers for discounts was tedious, the Internet poses an even much bigger problem. The Internet is a huge place that almost every vendor can place offers, discounts, and savings that if the consumer is not careful and thorough, they may or may not find them. Searching for deals can be an extremely overwhelming task and that is where HornOutletsOnline.com comes into play. This site collects and consolidates the various coupons, sales, and deals that are out there, complete with the important information and expiration dates. Instead of looking all over cyberspace for great bargains, check just a single site for unlimited savings: HornOutletsOnline.com.
Learning to save
HornOutletsOnline.com does not just provide information on online coupons, sales, and deals, but it also provides information for novice Internet users on how these discounts work. The site updates on a regular basis and in this way, the site is able to provide relevant discount information on a regular basis. Unique, special, personal, or just a new outfit: whenever or whatever, a wide variety of shopping, with unlimited parking spaces is always available. A blog section is also available to provide extra tips on shopping online.
Learn more about online shopping and start saving today by visiting HornOutletsOnline.com. This is one site consumer's bookmark for savings again and again. It is the one stop shop for online shopping needs.
Shop here today: bookmark for tomorrow.
###