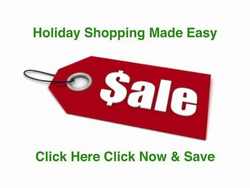 Click Here, Click Now, and Save™
Concord, CA (PRWEB) September 23, 2008
Halfway To Concord, a leading local news blog serving Contra Costa, California, has launched its Online Store that makes holiday shopping easy with its "Click Here, Click Now, and Save™" program. Now visitors can shop for deals on name brand computer, electronics, clothing, toys, books, and other gifts this holiday season.
Halfway To Concord, a local news blog that bears the name of one of Ben Franklin's euphemisms for inebriation, has been publishing since 2004, covering national and Contra Costa news, politics, business, and non profit news. Its active and attractive readership profile includes thousands of community and opinion leaders, including elected officials and business executives in one of California's fastest growing regions; while its community event calendar is widely used by local non-profits and their supporters.
Editor and Publisher, Bill Gram-Reefer, is a 24-year tech publisher and marketing veteran. He is president of WORLDVIEW SEO PR, which provides Internet Public Relations services to clients from around the world in addition to click-and-mortar retailers looking to take advantage of local search strategies.
More importantly, Gram-Reefer is Chair of the Contra Costa County Literacy Coalition's Executive Committee that supports literacy programs in the area. "We've committed to donating 20% of commissions to local literacy programs," said Gram-Reefer. "Halfway To Concord offers unique and compelling content that makes holiday shopping fun and easy while supporting literacy."
The online store at Halfway To Concord offers computer, electronics, and more from Apple, Panasonic, Pioneer, plus deals on hundreds of name brand products including Bang & Olufsen, Canon, Estee Launder, Garmin, Jos. A. Banks, Krups, Iomega, Nikon, Opium, Pulsar, Reidel, Sephora, Travelocity, and more! Visit today!
Visit Halfway To Concord at halfwaytoconcord.com; Contact WORLDVIEW SEO PR at worldviewpr.com
Halfway To Concord Online Store offers deals on name brand Electronics, Computer, Music
###