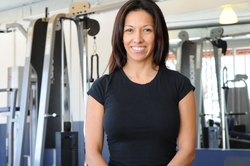 I can also bring my web cam to work and train with my co-workers.
Dallas, TX (Vocus) August 12, 2009
Trainwithjean.com is offering live video streaming workouts over the internet in both English and Spanish. Training online makes working out possible as long as there is a computer.
With the cost of living on the rise, Trainwithjean.com is helping give consumers an easy, convenient and cost effective way to workout in front of the computer.
Trainwithjean.com streams workouts in real-time giving Jean and her staff of trainers the ability to work with clients as if they were in the same room. Tthe session are live, allowing Jean to see the client's routine. This allows her to modify one's form and push clients to achieve workout goals. This enables the trainer to change and modify a workout constantly to fit the individual's needs. "This is not an online exercise video--think of this as a virtual gym, and if a workout video requires an advanced form or difficult posture, it may cause you more harm than good," she states.
Each 30minute session is $15. Trainwithjean.com offers packages which will drop the rate to $10 if five sessions are purchased. Log on today for a free introductory session and evaluation. http://www.trainwithjean.com/contactme.html .
Trainwithjean.com is also targeting the Spanish speaking community with the help of her colleagues, Carlos Garcia and Diana Guerrero. Carlos is an online fitness trainer and will demonstrate the exercise in both English and Spanish. Diana is a virtual fitness trainer and also offers an introduction to Zumba in both English and Spanish for those that are too intimidated to take the class in front of a large crowd. To learn more from Carlos and Diana visit YouTube.com "elluminatefitness".
The You Tube videos serve a dual purpose: to catalog exercises done at home or at the office with or without weights, and to show participants proper technique and form. For clients of http://www.trainwithjean.com each member is asked to review selected exercises based on their physical level as well as some of the core exercises and stretches. Clients will then implement these exercises with their online trainer.
Michelle Bonilla, a mom, a wife, a full-time employee, part-time student and loyal follower of trainwithjean.com says she lost 10 pounds the first month she started training on-line because of its convenience, and the ability to do this at home or at work. "I can also bring my web cam to work and train with my co-workers." As a result, her personal workout schedule was never affected. Training at home is fast and easy, "The great thing about working out at home is I could pop a casserole into the oven before my workout with Jean, and 30 minutes later I am done, and the casserole is done. She also advised me of different food options that are available that I never even heard of like chia seed and quinoa."
The ability to have a personal online trainer helped Marsha Gordon, who has been a long time client of Jean. She was happy that she didn't have to stop training when she traveled to her second home out of state. "All I did was purchase a web camera, and I was able to continue training without missing a single session."
Trainwithjean.com will also offer in addition to personal training workouts, "Live" virtual classes which will be presented in both English and Spanish. Clients will also have the ability to ask the trainers questions about personalized workout routines, diet and fitness programs, weight loss, finding a personal fitness trainer, what to look for when hiring a personal trainer and a variety of fitness tips. The education aspect will be overseen by Corbin Lawson, selected by Men's Journal as 100 Best Trainers in America. He has three nationally recognized certifications and co-owner of Lakewood Gym in Dallas, Texas. (http://www.corbinlawson.com )
Jean Lawson became a personal trainer through International Sports Science Association in 2003, and received a second certification in personal training through National Academy of Sports Medicine in 2003. She has taken Biomechanics I and II through Cooper Aerobics institute in Dallas, Texas and has taken various anatomy courses throughout the years as well as receiving her Pilates Certification through Oasis Mind and Body Studio. Having worked both in gyms as well as in a doctor's office, as a rehabilitative pilates instructor, she started the concept of online training with the help of long time client and friend, William Peirson. Both have been working on the concept together since 2008. "Everyone said that this couldn't be done, but we knew that it was possible." Peirson wants to remind users that, " the only tools needed is a computer, internet access and a web cam. Make sure to have the newest version of Java downloaded on the computer which can be done for free at http://www.java.com/en/download/index.jsp ."
At http://www.trainwithjean.com your personal trainer is just a click away/
###