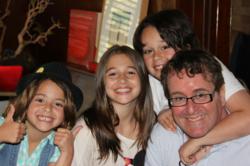 Homework Sanity, Inc. is offering $12,000 in free video chat tutoring sessions.
Los Angeles, CA (PRWEB) November 03, 2011
Homework Sanity, Inc., an innovative provider of services and products designed to alleviate the stress caused by school, has announced a $12,000 tutoring giveaway. Each week, Homework Sanity will pick winners until the $12,000 has been brought down to a zero balance. The contest is open to users anywhere in the world, but entrants must have access to Skype, Gmail or Facetime chat services. Visit the Homework Sanity website to enter and to view complete contest details.
Homework Sanity works with parents and their children to create the skills needed for children to thrive in and out of the classroom. Focusing primarily on children who have been labeled ADD, ADHD, disruptive, bored, or not paying attention in class, Homework Sanity offers private tutoring, remediation, academic screenings and academic consulting.
Homework Sanity provides free assessments for parents. In 2012, Homework Sanity: The Book will be released, offering parents solutions for resolving stress issues created by too much homework.
About Homework Sanity, Inc.
Founded by Roger Wilkerson, the Homework Sanity team is comprised of members with degrees in education, telecommunications, art and psychology. The team is passionate about their work, and love providing students with the tools needed for success in school and life.
Homework Sanity is selective about the clients they choose. Parents and their children must be willing to work on long-term goals. Homework Sanity's offerings are designed to be more than "quick fixes"; they work with students and parents to implement healthy skills that will last a lifetime.
For more information about Homework Sanity and their $12,000 tutoring giveaway, visit http://homeworksanity.com/.
###