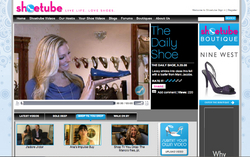 Because we are primarily using video to tell the story, we are able to overcome many of the limitations of copy only editorial sites.
Somerville, Mass. (PRWEB) September 30, 2008
Today Shoetube.tv, an online video channel and social community connecting women all across the Internet through their passion for shoes, launched its revamped Web site and first boutique - Nine West. The new site debut allows users to view boutiques, tune in to fresh faces and weekly themes on the Daily Shoe and follow blogs directly from Daily Shoe hosts. Women will be going crazy trying not to visit Shoetube.tv.
"We wanted to transform our existing Web site into one that showcases Shoetube.tv's growth," said Kelly Rostad, vice president of marketing for Shoetube.tv. "Since its launch, Shoetube.tv has become a Web-based shoe community. And, we wanted to reflect that community in our new design."
The new site design makes it easier for users to share information and collaborate online. Advertisers who want to go beyond will also see the benefits of Sheotube.tv's new design with innovative sponsored video opportunities, which are run as regular programming, or the boutique option.
Shoetube.tv's first boutique, Nine West, showcases videos, photos, polls, blogs and contests. The boutique also provides a natural jumping off site for users to purchase Nine West styles directly from their existing e-commerce store.
"Our expanded sponsored video is specifically targeted at shoe designers and retailers who want to get the word out on a new trend, style or direction," said Michelle Weber, producer for Shoetube.tv. "Because we are primarily using video to tell the story, we are able to overcome many of the limitations of copy only editorial sites."
In addition, PIXSTA's visual search and browse technology brings an extra level of functionality to Shoetube.tv--making shoetube.tv's unique content even more compelling and interactive for its fans.
About Jones Apparel Group, Inc.:
Jones Apparel Group, Inc. (http://www.jonesapparel.com) is a leading designer, marketer and wholesaler of branded apparel, footwear and accessories. The Company also markets directly to consumers through its chain of specialty retail and value-based stores. The Company's nationally recognized brands include Jones New York, Nine West, Anne Klein, Gloria Vanderbilt, Kasper, Bandolino, Easy Spirit, Evan-Picone, l.e.i., Energie, Enzo Angiolini, Joan & David, Mootsies Tootsies, Sam & Libby, Napier, Judith Jack, Albert Nipon and Le Suit. The Company also markets costume jewelry under the Givenchy brand licensed from Givenchy Corporation, footwear under the Dockers Women brand licensed from Levi Strauss & Co and apparel under the Rachel Roy brand licensed from Rachel Roy IP Company, LLC. Each brand is differentiated by its own distinctive styling, pricing strategy, distribution channel and target consumer. The Company contracts for the manufacture of its products through a worldwide network of quality manufacturers. The Company has capitalized on its nationally known brand names by entering into various licenses for several of its trademarks, including Jones New York, Evan-Picone, Anne Klein New York, Nine West, Gloria Vanderbilt and l.e.i., with select manufacturers of women's and men's products which the Company does not manufacture. For more than 30 years, the Company has built a reputation for excellence in product quality and value, and in operational execution.
About Powderhouse Productions:
Powderhouse is an award-winning, creative television and new media company based in Somerville, MA. The company's original series have aired on The Discovery Channel, The History Channel, National Geographic Channel, TLC, and Tech TV and in more than 200 countries. Powderhouse is becoming a leader in multi-platform 360 video production: from TV to the Web to mobile phone content Powderhouse's work has been recognized with numerous national and international awards, including a prime time Emmy nomination. Currently Powderhouse is taking storytelling to the Web. For more information, please visit http://www.powderhouse.net.
###