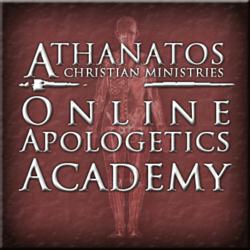 Holmen, Wisconsin (PRWEB) May 20, 2013
Prospective students of apologetics now have another option for furthering their apologetics education with the Literary Apologetics Certificate being offered by Athanatos Christian Ministries' Online Apologetics Academy.
ACM's Literary Apologetics Certificate Program is designed to ensure that our artists are theologically informed, alert to modern challenges to the faith, and understand that having a genuine Christian faith is no substitute for the need for excellence in our writing, music, etc. At this time, ACM's emphasis is on literature. In due time, other artistic forms may be added.
Christianity is often undermined by cultural undercurrents, but historically Christians themselves have been highly involved in contributing to the cultural conversation. ACM hopes to help renew that involvement by encouraging Christians to enter the public sphere in a knowledgeable fashion.
The Literary Apologetics Certificate is a sixteen course program which consists of the following:
General Theology:

New Testament: The Gospels
New Testament: The Epistles
Survey of the Old Testament Part 1 (Genesis-Deuteronomy)
Christ Promised in the Old Testament
General Apologetics:

Accessible Apologetics (or equivalent survey course)
Apologetics related Elective
Apologetics related Elective
General Theology/Apologetics related Elective
Literary Apologetics:

Principles of Literary Apologetics
The Fiction of Dorothy Sayers, GK Chesterton, and Charles Williams
Studies in Myth (CS Lewis, JRR Tolkien, George MacDonald)
Studies in Poetry (Shakespeare, Marlowe, Donne, Herbert, Eliot)
Writing and the Arts:

Writing related Elective
Writing related Elective
Wordsmithing
Writing for Publication
Prospective students interested in the program can read this essay for a better understanding of literary apologetics. More information on the program and registration options can be found on the website.