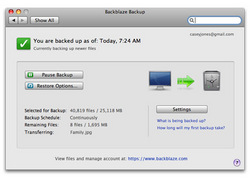 Palo
Alto,
 California (PRWEB) December 9, 2008

Backblaze makes available the only online backup service that automatically backs up all data on Apple Mac computers for just $5 per month in a limited private beta today. Mac users can sign up at http://www.backblaze.com to request an invitation.
Whether a web design expert or a grandparent lovingly putting together photo albums, Mac users create and keep photos, music, movies, and other critical files on their computer. However, according to an Apple survey, only four percent of Mac users regularly backup their data.
Backblaze provides an effortless online backup solution that enables these Mac users to never worry about losing their pictures, videos, music, documents and other computer files, ever again.
With Backblaze online backup, the entire installation and configuration experience is simply:

Click Download
Enter an email address and a password
Click Install
At this point the computer starts to backup all data with the following available features:

Free 15-day trial with unlimited storage
Continued unlimited storage for just $5 per month
Automatic backup of all data, including data on external USB and Firewire drives
Military-grade encryption of all files and optional private encryption key
Restore to any computer via the Web or on DVD or USB hard drive
Continuous backup with scheduled, idle-time, and manual backup options
No slow down of computer use or Web browsing
Availability in 11 languages.
With half of the founding team heralding from Apple, Backblaze is deeply committed to the Mac platform. The service has been designed natively for the Mac platform, integrated into the Mac System Preferences, and developed for the Mac community. Request an invitation to participate in the beta at http://www.backblaze.com.
Backblaze online backup beta for Mac supports Intel-based Mac computers running Mac OS X 10.4 Leopard and newer.
About Backblaze
Founded by a team of serial entrepreneurs with security, scalability, usability backgrounds, and located in the heart of Silicon Valley, Backblaze's mission is to ensure that all computer data is backed up. Backblaze was selected as a winner of the AlwaysOn Global Top 250 private companies for game-changing technology and market value. Visit http://www.backblaze.com for more information or to backup your computer.
###