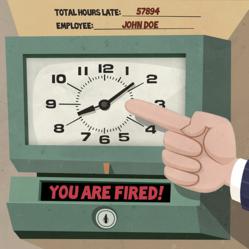 Our alarms can only do so much to help people arrive on time for work. Since we know that people will sometimes still arrive late, we decided to create humorous excuses for their tardiness.
(PRWEB) June 04, 2013
OnlineClock.net has published a fun new infographic on their blog, at http://blog.onlineclock.net/late-for-work/ It focuses on some independent research done by their staff which highlights reasons people are often late to work. The statistics are quite enlightening, and they reveal that being late for work costs U.S. businesses a whopping $3 billion each year in productivity losses. The researchers found that 16 percent of workers report that they are late for work at least once each week, and 27 percent of workers confess that they are late for work once a month. The research also points out that the company CEOs don't seem to be able to get to work on time either.
For evidence as to why people are late for work, the researchers pointed to a 2013 poll conducted by CareerBuilder.com, which shows that 30 percent of workers were late because they were stuck in traffic. Additionally, the poll shows that at least 9 percent of employees arrived late because of bad weather. The poll also reveals that getting children off to school or daycare accounted for 8 percent of employee tardiness, and 19 percent of people are late for work due to lack of sleep.
The website at http://onlineclock.net is known for having a myriad of alarms; however, the site also places a high value on humor. Staying true to their fondness of making light of things, the website's owner and creator, Tom Churm, published 16 excuses on the website's blog that are sure to help remove the scowl from the boss's face after an employee arrives late for work.
Mr. Churm said, "Our alarms can only do so much to help people arrive on time for work. Since we know that people will sometimes still arrive late, we decided to create humorous excuses for their tardiness." Of course, the excuses are only recommended for the purpose of a good laugh. Imagining telling the boss such things can help employees mentally poke a little fun at a potentially uncomfortable situation.
Some of the more bizarre excuses include claiming to have been kidnapped by the Two Hour Liberation Army for two hours. Another beauty of an excuse is an employee telling their boss that their tardiness was caused by the dog burying their Volvo in the backyard. A great rainy day excuse would be for an employee to say that they rode their experimental solar powered bike to work, but since it was raining there was not enough power to get them there on time
Many of the site's visitors have been enjoying and sharing these wacky excuses to give their bosses to excuse their tardiness. This fun infographic is great for sharing with friends and coworkers. The crowd favorite among the list of excuses is that the late employee got stuck behind a crowd at Starbucks, who were all likely to be attending the same Procrastinators Meeting. It's really hard not to laugh at many of these.
About The Online Alarm Clock
OnlineClock.net is the world's original online alarm clock website. Millions of people use "Online Clock" to wake themselves up in the morning or for online reminders. That being said, Online Clock never fails to also offer a bit of humor to help the site's visitors cope with life's difficulties. After all, almost everyone has been late for work at one time or another. OnlineClock.net's humorous approach fosters acceptance so that people can just get on with their day.
The site's blog at http://blog.onlineclock.net often reminds people to get enough sleep so that they can function properly at work. One of the reasons why people are late for work is that not everyone is accomplishing this. The site offers many tips on how to fall asleep and wake up on time for work or school. OnlineClock.net also has many pleasant sounds on their website that can help to lull their visitors to sleep. Sometimes it just takes a little extra effort to get to sleep on time. If tardiness is a problem, this site's approach offers up a little humor and several techniques that visitors can use to correct it.