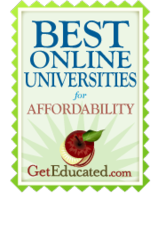 Average online nursing bachelor's degree cost is $44,211 - Online nursing master's average $22,130
Essex Junction, VT (PRWEB) June 12, 2013
GetEducated.com, a consumer group that publishes rankings of America's best online colleges and universities has released its 2013 rankings of Best Buys in online degrees for RNs pursuing careers in nursing.
Get Educated surveyed nursing schools nationwide to create data-based rankings of the most affordable online colleges and universities that offer an RN to BSN degree online or a nursing masters degree (MSN) online.
Best Online Colleges – Affordable RN to BSN Degree Online
Get Educated surveyed 29 regionally accredited colleges with nursing schools that offer 30 different online BSN degrees to create a unique list for consumers of the 18 most affordable online nursing degrees for career RNs nationwide (RN to BSN online).
According to the national online learning survey the average cost for an online BSN is $44,211. Western Carolina University Online offers the most affordable Online BSN at a cost of about $19,715 for state residents (NC). Both Fort Hays State University (KS) at $21,039, and Western Governors University (UT) at $27,160, earned top rankings as the most affordable online BSN programs for RNs nationwide seeking to expand their careers in nursing.
Best Online Universities – Affordable Online Nursing Master's – MSN
Get Educated surveyed 32 nursing schools at regionally accredited universities.that offer 44 different online MSN degrees to compile a ranking of the 29 most affordable online master's degrees for nurse managers, nurse practitioners and nurse educators.
According to the national online learning survey the average cost of an Online Master's in Nursing Degree is $22,130. Fort Hays University Online (KS) earned a #1 ranking for the most affordable Online Master's Nursing Degrees at $8,206. Georgetown University Online offers the most expensive Online MSN for nursing career professionals at a cost of $75,600.
Online Learning Promotes Careers in Nursing in Rural Areas
A 2012 study, "United States Registered Nurse Workforce Report Card and Shortage Forecast" published in the American Journal of Medical Quality, forecast a critical shortage of registered nurses across the country through the year 2030. The RN shortage is expected to be the most intense in the rural South and the West where educational opportunities remain the most limited.
Vicky Phillips, chief online education analyst at GetEducated.com, says the surveys reveal that "online education has become a driving force in the movement to relieve the critical shortage of nurses, especially in rural areas where new online schools such as Western Governor's University have joined traditional state schools, like Western Carolina University and Fort Hays State University, to develop and deliver low-cost, high quality online nursing degrees."
Healthcare professionals and RNs interested in using online education to expand their careers in nursing can use the free Get Educated online degree comparison engine to research and compare 295+ online nursing and healthcare degrees by admission requirements, cost, reputation and verified online student ratings.
About: Founded in 1989, GetEducated.com help consumers locate the best values in online learning by publishing independent reviews and rankings of the best online colleges in the U.S.