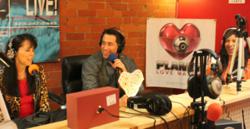 Los Angeles, CA (PRWEB) April 17, 2012
Best-selling author, dating coach, and online dating expert Julie Spira was a recent guest on weekly dating advice show, Planet Love Match Radio. During her visit, she talked about what it takes to set up a winning online dating profile. By blending her real-life dating experiences and common-sense expert approach, Spira provided listeners of the show with great tips on how to craft an impressive online statement.
While focusing on building a great profile summary, Spira offered suggestions useful to anyone struggling with composing the ideal first impression. "I think you need to keep your profile really positive. There's nothing worse than seeing a profile that starts off with 'I'm not interested in meeting a woman who is high drama.' Did you really think we really thought you were?" she stated.
Julie Spira is known worldwide as the Cyber-Dating Expert®, as well as a media personality and dating coach. She has either been quoted in or appeared on E! Entertainment, Cosmo Radio, The New York Times, ABC, NBC, CBS, and FOX News. In addition to her many media appearances, she is a regularly featured dating advice columnist for The Huffington Post, Date Daily, Examiner.com, and YourTango. Having created her first online dating profile in 1994, Julie uses her personal online experiences and specialized advice to give fresh hope to singles looking for online love.
"Don't write too much. I always say leave the novel at home. It's just like sending an e-mail. Simple and short. A couple of sentences - just something to pique their curiosity," she added. "Leave the baggage behind. Don't talk about your exes. Whatever negative thoughts you have, leave them behind. You need to be positive and you need to talk about what you like."
During the show, Spira also tackled the biggest mistake she sees in dating profiles. "The number one thing is the photos. If you have a great photo – men don't always read your profile, they start with the photo." She went on to explain that singles must make sure their photos are current. "Both men and women go on their first date going, 'Are they going to look like their profile?' Nine out of ten times they don't, and when they do they get really excited. They are so used to being disappointed from people posting really old photos," she stated.
Spira went on to describe exactly what kind of photos singles need to make a great profile. "You need to post three to five, minimum. If a guy only sees one photo of you – and it's just a headshot- he's going to think you're fat. You may not be, but that doesn't matter, he's already on to the next profile," she asserted.
Creating a winning online dating profile doesn't have to be a challenge. Online daters can use Spira's basic advice to create their own appealing profile. Profiles just need to be honest, include up-to-date profile pictures, and specific information about expectations, wants, and needs. Online dating site Planet Love Match not only offers profile summaries and open-ended questions to help singles express themselves, it also gives users the ability to upload unlimited photos and videos, a graffiti tool for art on profiles, and a personal blog they can use to express themselves. The only limit to self-expression on Planet Love Match is each member's imagination.
In the end, Spira just wants those who are looking for love to get out there and give online dating a try. "I think that the most important thing that you need to think about is that your shelf life is not expiring. Just because you have a 0 next to your birthdate – 30, 40, 50 whatever - it doesn't mean you have to just take the next best thing that's out there, because you're afraid to be alone," Spira concludes. "There was a couple I coached. They got married. They met online. [They were] 70 years old. It's for everyone. Don't settle."
Planet Love Match Radio airs every Thursday night from 7- 9pm Pacific Time on LATalkLive.com. Hosted by Jennifer Tapiero and Josh Nasar, the show encompasses all aspects of relationships, love, sex, dating, and finding love online. Recent guests include: Dr. Reef Karim, matchmaker Chelsea Autumn, actor Quinton Aaron, singer Sheyna Gee and many more dating experts and celebrities. Listeners are encouraged to call and ask questions during the show at (323)247-7443.
Planet Love Match Radio is sponsored by online dating website http://www.planetlovematch.com.
About Planet Love Match®
Planet Love Match is a social online dating website that provides singles with an immersive and interactive way to find and meet people online, no matter where they are. With free email and chat and over 50 ways to communicate, Planet Love Match is making it safer and easier for singles of every age, race, orientation and gender to find love online. Planet Love Match is powered by KABUUM®, a communication platform developed by Global Marketing Resources, Inc. Founded in 1995, GMRI is headquartered in Dunedin, Florida.