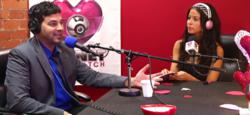 Los Angeles, CA (PRWEB) April 30, 2012
Relationship therapist, author, and television personality, Dr. Reef Karim was recently a guest expert on the weekly dating advice talk show, Planet Love Match Radio. Joined by host Jennifer Tapiero, the Beverly Hills physician talked about what singles can do to achieve better dating results. Dr. Reef brought his extensive relationship knowledge, quick wit, and down-to-earth sense of humor with him, delighting show listeners.
Setting unrealistic dating expectations is the first way singles hinder their own dating lives. Dr. Reef explained that by setting up a practical approach to dating, singles enable themselves to more openly accept a new relationship. "The biggest thing about dating is not everyone is going to like everyone else. It's such an easy concept. If you can go and say, 'I legitimately met someone today. I learned something. It was an experience, but I know and that person knows that this would never go anywhere,' then that's great. That's mature. That's progress," Dr. Reef stated.
Acknowledging that singles may not find that perfect someone on every first date – that it might take many dates – can be a hard pill for some to swallow. "There are so many people out there who are like 'I've gotta be liked, I have to be liked, everyone's got to like me' that they freak out and get really weird that the person might not like them," Dr. Reef said.
The intense need to be liked or the use of fear mechanisms could also be an indication of childhood events influencing singles' adult lives. "In the psychological world, what happens to us early on in our lives impacts how we do things in our adult life," he asserted. "It's not like you just, in your twenties, developed a clinginess - you got it [at] a young age."
Well known as a Hollywood medical consultant, board certified addiction specialist, board certified psychologist, relationship therapist, researcher, and now author, Dr. Reef is also an Assistant Clinical Professor at The UCLA Semel Institute for Neuroscience and is a Senior Attending Physician of the UCLA Addiction Medicine Clinic. He has offered advice on numerous movies and television shows, as well as appeared as a guest expert and host. His new book, "Why Does He Do That, Why Does She Do That", explores dating in the 21st century.
"The second way to destroy a date is when you are flirting with other people because you fear intimacy with the person that you're with," he said. "Guys do this much more than women."
Dr. Reef further states that a third way to destroy a date is drinking too much alcohol. "When you drink so much, you get more impulsive," Dr. Reef said. "You say things you wouldn't normally say… things that you normally wouldn't do, and when those things happen, it's more problematic for the date."
Dr. Reef expanded on other common ways daters may unknowingly self-sabotage their dates. Interrogating the date to fill a mental dating checklist, making inappropriate comments regarding weight, control or money, having a fear of intimacy, and lacking an understanding of ones-self seem to be the most common culprits behind self-induced dating dilemmas.
Ultimately, Dr. Reef's advice for willing daters is simple: get to know yourself, be open minded, and accept that not everyone is going to like you. "Understanding your attachment or your development profile is a really, really important part about dating because you understand what you're bringing to the table when you go on a date; even if it's a first date or a long-term relationship," Dr. Reef concludes.
To enjoy highlights from Dr. Reef Karim's Planet Love Match Radio visit, go to http://blog.planetlovematch.com/?tag=/Dr+Reef+Karim
Planet Love Match Radio airs every Thursday night from 7-9 p.m. PST on LATalkLive.com. Hosted by Jennifer Tapiero and Josh Nasar, the show encompasses all aspects of relationships, love, sex, dating and finding love online. Listeners are encouraged to call in and ask questions during the show at (323)247-7443. Recent guests include: Cyber-dating expert Julie Spira, life coach Steve Truitt, astrologists Nancy Schorr and Shawn Sykora, author Donna Spangler, TV personality Tanya Memme, singer Sam Stone and many more dating experts and celebrities. To watch highlights from the show, go to http://blog.planetlovematch.com/category/PLM-Radio.aspx
Planet Love Match Radio is sponsored by online dating website PlanetLoveMatch.com.
About Planet Love Match®
Planet Love Match is a freemium online dating site that provides singles with an immersive and interactive way to find and meet people online, no matter where they are. With free email and chat and over 50 ways to communicate, Planet Love Match is making it safer and easier for singles of every age, race, orientation and gender to find love online. Planet Love Match is powered by KABUUM®, a communication platform developed by Global Marketing Resources, Inc. Founded in 1995, GMRI is headquartered in Dunedin, Florida.