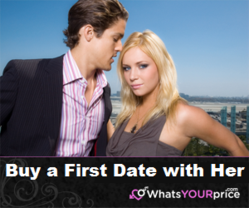 Las Vegas, NV (PRWEB) October 31, 2011
WhatsYourPrice.com, the patent pending dating website that has taken the "charity date auction" concept to online dating, today announced the launch of its new Affiliate Program through ShareASale.com.
WhatsYourPrice.com was launched to solve a common problem faced by most users of online dating websites. Regular online daters face the problem of a lack of response, having to write hundreds of messages only to receive a few responses. Attractive online daters on the other hand are faced with the opposite problem of being bombarded with endless number of messages, making it impossible to respond to everyone. Unlike the thousands of other online dating sites where getting a first date is a crapshoot, WhatsYourPrice.com guarantees that for the right price, you will get a first date with whomever you like.
"This name your price for a first date concept is just like charity date auctions," says Brandon Wade, Founder & CEO of WhatsYourPrice.com. "While charity dating auctions are mainly done to benefit charities and participants don't really have a shot at love, singles who meet on WhatsYourPrice.com are doing it for love, and to fall in love."
WhatsYourPrice.com, which recently launched an advertising campaign on Sirius XM, has been featured nationally and globally on TV shows, newspapers, and radios. Most recently, the online dating website was featured on the Fox Business News, Chicago Tribune, San Francisco Chronicle, New York Post, Jimmy Fallon, the O'Reilly Factor, the Huffington Post, Playboy Radio and more.
"Since our debut this March, we have been growing rapidly. Most of our growth has come from word-of-mouth," says Wade. "To further power our growth, we have decided to partner with the leader in Affiliate marketing. ShareASale's vast affiliate network provides us with the reach that our online dating product deserves."
Affiliate Payout
WhatsYourPrice.com's Affiliate Program promises to be more rewarding than most online dating products. Publishers and webmasters will earn a commission for generating both signups and sales. For each member registration, affiliates will be paid US$1.00 per signup. For each sale, affiliates will be paid 40% of all sales. Commission payment is valid on leads and sales that occur anytime for up to 30 days after clicking on an affiliate link. Best of all, there is no cap on how much money an affiliate can make via our affiliate program.
To find out more about the online dating website WhatsYourPrice.com, visit our website. To sign up for our affiliate program, please visit the WhatsYourPrice Affiliate webpage.
About WhatsYourPrice.com
WhatsYourPrice.com is the first and only "Name Your Price" online dating website where singles buy and sell the opportunity to go out on a first date. Launched in March of this year, the website currently boasts over 250,000 members and has matched up over 400,000 first dates. The website was founded by dating expert and author, Brandon Wade, who also launched SeekingArrangement.com – the leading sugar daddy and sugar baby dating website, and SeekingMillionaire.com – the largest millionaire personals.
###