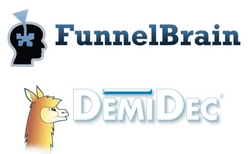 I was really impressed with FunnelBrain's innovative approach to student collaboration
Los Angeles, CA (PRWEB) June 3, 2009
FunnelBrain, LLC. announced a partnership with DemiDec Corporation, the leading provider of independent curriculum materials for the U.S. Academic Decathlon.
FunnelBrain will host DemiDec's 2009-2010 Decathlon flashcards online, giving over 10,000 DemiDec subscribers the opportunity to join the growing FunnelBrain student community and to benefit from FunnelBrain's learning management application, the FUNNEL.
On FunnelBrain.com, a student-driven academic question-and-answer site founded by education experts and seasoned Internet executives from Move, Inc. [NASDAQ:MOVE], students create and share multimedia flashcards to enhance their learning experience. They can form study groups and collaborate on flashcards with other students around the world.
"I was really impressed with FunnelBrain's innovative approach to student collaboration," said Daniel Berdichevsky, DemiDec's CEO. "It fits perfectly with DemiDec's student-centered approach--students learn best when we give them the tools they need to work together."
Daniel will also join FunnelBrain's advisory board. He founded DemiDec in 1994 and obtained his undergraduate and first master's degrees from Stanford, and his second master's degree, in Public Policy, from Harvard. Daniel also directs the World's Scholar's Cup, an international academic competition with participants in over 30 countries.
"We're excited to partner with a proven company focused on student educational resources and experiences," said Joe DeTuno, FunnelBrain's CEO. "We're especially excited to have Daniel join our advisory board."
About FunnelBrain LLC
FunnelBrain is an academic question-and-answer site that provides an environment for team-based learning and multimedia flashcards. Learn more at http://blog.funnelbrain.com or http://www.funnelbrain.com, or email contact@funnelbrain.com. FunnelBrain is a trademark of FunnelBrain LLC.
About DemiDec
DemiDec has been the category leader in student-centered learning experiences since 1994, reaching more than 100,000 students in 32 countries: DemiDec's learning solutions range from curriculum for the Academic Decathlon to college prep courses at the DemiDec Academies in South Korea. To learn more, visit http://www.demidec.com or e-mail contact(at)demidec(dot)com. DemiDec is a trademark of the DemiDec Corporation.
About World Scholars Cup
With participants in over 30 countries, the World Scholar's Cup is the world's leading team academic competition. Teams learn a unified global curriculum spanning multiple subjects and skills, from science and art to writing and debate; they participate year-round in the World Scholar's Cup online community and compete in person at regional and world tournaments. The 2009 World Finals will be held June 13-14 in Singapore.
###