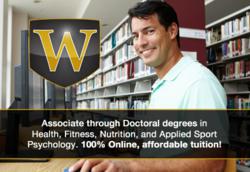 The health and fitness industry is growing faster than the majority of other industries. Career opportunity has never been greater.
Rancho Santa Margarita, CA (PRWEB) January 18, 2013
It's anything but an April Fool's Day joke: On April 1, spring classes begin for Wexford University's online bachelor's of health and fitness degree. Students can apply online now for entrance to the degree program at http://wexford.edu/degree-programs/bachelor-of-science-degree-in-health-and-fitness/, which allows for flexible and convenient scheduling.
A bachelor's degree in health and fitness from Wexford University prepares students for careers including wellness consultant, health club administrator, corporate wellness director, fitness/wellness entrepreneur, and other health, fitness and wellness positions.
"As the health and wellness industry continues to outpace the rest of the job market, this online degree offers a meaningful educational experience for a variety of careers in health, fitness and human performance where you can really make a difference in other's lives," said Jack Bauerle, Chancellor of Wexford University. "At Wexford, we're dedicated to creating leaders in health and wellness through our comprehensive online college education."
Some of the classes in the health and fitness program include:
Kinesiology
Introduction to General and Organic Chemistry and Biochemistry
Research Methods in Exercise Science
Introduction to Sport Psychology
Biomechanics
Advanced Nutrition
Concepts in Group Exercise
Ethics and Sport Management
Concepts in Strength Training, Cardiovascular Training and Power Training
The self-directed online degree in health and fitness was designed to provide a comprehensive understanding of the sciences currently applied in the field, such as biomechanics, nutrition, exercise physiology, advanced program design and sports psychology, to impart a multi-disciplinary approach to enhance health, prevent disease and disability, and to help graduates effectively address conditions related to hypokinetic illness, chronic disease states, special populations, or other health etiologies.
Wexford University offers a variety of online degree program, from associates through doctoral degrees, in the health, fitness and wellness field. Spring quarter starts April 1, summer quarter continues on June 24 and the fall quarter begins Sept. 30.
About Wexford University
Wexford University is dedicated to providing world-class education through cutting-edge technology, offering direct application degree programs in an accelerated format with 100 percent online learning to save time and money. Programs include an associate of arts degree in Fitness Training, bachelor's degree in Health and Fitness, master's degree in Nutrition and Exercise as well as master's degree and doctorate degree in Applied Sport Psychology. Wexford University is the higher education division of NESTA (National Exercise & Sports Trainers Association). For more information, please visit http://wexford.edu/.