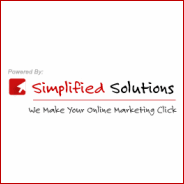 Successful E-Commerce Marketing is driven by understanding online shopping behavior. Analytics are the key to improving performance.
Chicago, IL (PRWEB) June 05, 2012
Chicago digital marketing agency, Simplified Solutions, was recently awarded the E-commerce Marketing work for Roothouse, Inc. The Chicago E-tailer company owns and operates three e-commerce websites including outdoor gear-themed CalSport.com, boutique pet product supplier TailsAndThings.com, and BlackBoxPaintball.com, an e-store featuring the top brands in paintball gear. Simplified Solutions developed all three websites on the zNode e-commerce multi-store platform.
The E-commerce marketing plan features a mix of Paid Search (PPC), Social Media Marketing and SEO tactics. Each site has been fully optimized using search engine best practices. A series of keyword rich and educational product guides were developed as part of an SEO content strategy and syndicated though multiple online channels.
An online advertising campaign featuring Google AdWords and YouTube text and display ads has increased traffic by 500% with improvement in other key metrics including page views, time spent on site and bounce rates.
Simplified Solutions is also managing Social Media engagement, growing the fan based by over 50%. Multiple Facebook advertising campaigns are a key element of the plan to promote social commerce.
For more information contact Tom Casale at 1-312-846-7669.
About Simplified Solutions
Simplified Solutions is a strategic online marketing and technology agency located in Chicago specializing in Search Engine Marketing, Custom Web Solutions, Social Media Management, Online Planning and Web Video production, E-commerce Solutions, Paid Search Advertising and Online Reputation Management Campaigns. Founded by Tom Casale in 2002, Simplified Solutions develops strategies with customized digital marketing campaigns that yield successful and measurable results.
Partner, Bill Kamper, joined Simplified Solutions in 2008 and heads up the agency's strategic and creative initiatives. Together, both Casale and Kamper craft successful digital marketing plans using analysis and smart strategies to optimize their clients' web presence.