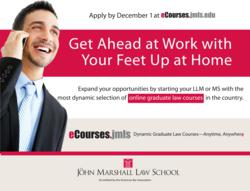 By filling multiple online channels with engaging content, we are able to increase our client's presence in search engines.
Chicago, Illinois (Vocus/PRWEB) January 18, 2011
Major independent law schools, such as The John Marshall Law School in Chicago, are entering the Distance Education market to offer students a flexible and convenient alternative to the traditional classroom learning environment.
To promote the law school's Distance Education graduate courses, Chicago marketing agency Simplified Solutions recently launched a new integrated campaign - "Master Your Career On Your Terms" - designed to create awareness and drive applications online. The campaign includes a new brand identity, print and CTA ads, and online marketing The new campaign,
"Phase one of the campaign is to build awareness of the benefits of online learning among our current students, alumni, and the attorney and working professional communities within the region," said Bill Kamper, Chief Marketing Strategist at Simplified Solutions. "By increasing our exposure and focusing our message in our own backyard, we are laying a strong foundation for trial and growth."
Working with the John Marshall's Institutional Affairs group and other law school departments, Simplified Solutions started by creating a new brand identity and relevant value proposition for the law school program. The awareness campaign, targeting regional attorneys and working professionals, relies heavily on a mix of online marketing tactics including SEO, email marketing, testimonial and online tour videos, social media, online PR, and paid search (Pay-per-click) advertising. The law school marketing campaign will expand to include global search, strategic alliances with international partners and members of the military community.
"Online search plays an increasingly important role in how prospective student assess their higher education needs and choices," added Kamper. "Our marketing plan fills multiple online channels with a stream of relevant and engaging content to ensure our message is at their finger tips."
Digital boards and print materials help spread the word on campus. A series of transits ads will saturate local CTA stations in the business district. To convert traffic into applications a new website was developed. The porgram launches just in time for the 2011
John Marshall recently contracted Simplified Solutions to develop a comprehensive brand marketing strategy for the law school's JD program in 2011.
For more information, contact Bill Kamper at 312-846-7669 or email the company at info@simplifiedsolutions.biz.
Simplified Solutions is an online marketing firm located in Chicago specializing in Social Media Management, Search Engine Marketing, Online Planning, and Web Video production.
###