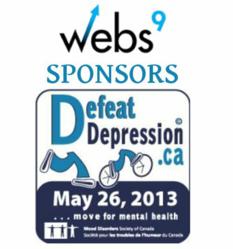 Webs9 online marketing agency provides support for globally recognized and endorsed social causes.
New York, NY (PRWEB) May 31, 2013
Webs9 offers online marketing services of high standards for international organizations of varying industries; such as accounting, security, IT support services, nutrition and many more. In addition, the agency endorses globally recognized social causes, offering support for Mood Disorders Society of Canada and other mental health initiatives. The most recent CSR initiative of the company is related to the Defeat Depression campaign, which is held annually all over Canada.
Webs9's involvement as an official national sponsor for the Defeat Depression campaign - which took place on May 26 in dozens of Canadian communities - materialized through a concentrated effort to promote the event online. In 2012, the event brought hundreds of Canadians together from many cities and communities, and this year Webs9 insured that the campaign took greater strides in providing the highest possible online exposure. The social media channels chosen to promote this event were Twitter and Facebook - two of the most popular online social networks among online users. Webs9 utilized the potential value these channels could provide for the Defeat Depression campaign. The agency decided to implement an incisive social media strategy with short and medium term resonance.
"The promotion of the Defeat Depression campaign was designed from scratch, developed in a harmonious collaboration with the event promoters and implemented after careful consideration of the factors that could have negatively influenced its evolution," said Alexa Talpau, Director of Online Marketing at Webs9.
The agency's involvement also influenced the local promotion conducted by the hosts of the event; specifically, Webs9 offered them training and support on the best practices in regards to using and optimizing social media for event promotion. Their efforts have been directed in support of a social cause which resonates across the global community, not only within Canada. The Defeat Depression campaign strives to raise awareness and sensitize people towards psychological disorders and mental health in general. According to a report written by Dr. Karen Cohen, CEO of the Canadian Psychological Association, depression currently affects 8% of the Canadian population. One of the long-term objectives of this campaign is to fuel a constructive change within society, to fight the stigma unfairly associated with mental illnesses, and to develop a social environment which encourages them to ask for help and receive treatment in a timely manner. Defeat Depression also raises funds in support of local organizations already actively involved in offering help to those who are living with depression.
Move events will take place in the fall all over Canada, so stay tuned. For those in Canada: join the campaign and move for Mental Health!
About Webs9
Webs9 provides online marketing and website development services as a part of the Omnisource Technologies company, which is headquartered in New York. The company's portfolio is extremely diversified, and includes clients from various industries such as IT support companies, accounting services, non-profit organizations, medical products, the foods industry, e-commerce stores, clothing designers, mattress manufacturers, and fitness and gym outlets.