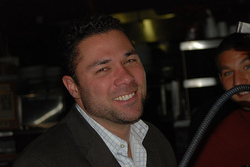 We regard our participation as the beginning of a highly productive collaboration between our two organizations—one that will benefit the entire SEM industry.
San Diego, CA (PRWEB) January 12, 2010
Search Engine Strategies (SES) is partnering with Online Marketing Summit (OMS) for a full day of sessions and panels on Thursday, February 25. Online Marketing Summit 2010, to be held February 22-25 at Paradise Point Resort & Spa in San Diego, provides an education in online marketing in an environment free from exhibit booths and sales pitches.
The Search Engine Strategy Forum, which is programmed by the SES Advisory Board, will include two search engine optimization (SEO) tracks, social media search, local search, mobile search, link building tactics and high level strategy.
"We've been following the arc of OMS for a couple years now, and they are really coming into their own with interesting and innovative programs. We are happy to bring our well known SEM experts for a day of their San Diego summit," said Matt McGowan, Incisive Media's Publisher, Head of U.S. for Incisive Media. "We regard our participation as the beginning of a highly productive collaboration between our two organizations—one that will benefit the entire SEM industry."
The Search Engine Strategies Forum will include:
A morning roundtable, moderated by Mike Grehan of Incisive Media, entitled "SEM Then and Now: What's New? What's the Same?," featuring:

Nacho Hernandez of iHispanic Marketing Group
Dana Todd of Newsforce
Greg Jarboe of SEO-PR, Inc.
Anne Kennedy of Joblr.com
Kevin Ryan of WebVisible, Inc.
Heather Dougherty of Hitwise
The "Fundamentals" track, meant for beginning marketers, or anyone who wants to review the basics, featuring:

The Findability Formula: The Easy, Non-Technical Approach to SEM with Heather Lutze of the
Findability group

Keyword and Content: Search Marketing Foundations with Christine Churchill and Ron Jones
Local Search Marketing Tactics with Ian White, Peter Liefner, Steve Espinosa, and moderated by
Jeff Ferguson

PR, Social Media, and Search with Lee Odden, Dana Todd and moderated by Sally Falkow
The "Beyond Fundamentals" track, meant for marketers who understand the basics of search and SEM and are looking for a way to expand or refine their technique, featuring:

PPC vs. SEO: The Ultimate Search Marketing Battle with Stacy Williams, Andrew Goodman, Richard
Zwicky, Matt Bailey and moderated by Brian Lewis

Analytics for Search: ROI, Engagement & Attribution with Richard Zwicky, Matt Bailey, Ray "Catfish"
Comstock, Stephan Spencer, and moderated by Mike Grehan

Seven Deadly Sins of Landing Page Optimization, a solo presentation by Tim Ash
YouTube and Video Optimization, a solo presentation by Greg Jarboe
For Online Marketing Summit 2010 registration and pricing details, go to.
http://www.onlinemarketingsummit.com/online-marketing-summit-2010-registration-pricing-details/
About SES
Incisive Media's Search Engine Strategies is a leading global conference and training series focused on search engine optimization and search engine marketing. Other Incisive resources for interactive marketers include ClickZ.com for digital marketing news, information, commentary, advice, opinion and research and Search Engine Watch which provides news and information about search, analysis of the search engine industry and tools for improving search marketing effectiveness.
Incisive Media is a leading global provider of specialized business news and information, in print, in person and online. The company's principal markets include financial services, legal services, commercial real estate, marketing services and risk management. Incisive Media's market-leading brands include Accountancy Age, Computing, Investment Week, Legal Week, Post, Risk, and Search Engine Strategies. For more information, visit incisivemedia.com.
For more news and event updates visit the SES blog at: http://blog.searchenginestrategies.com/
For more information, contact:
Greg Jarboe, SEO-PR, Inc.
978-549-9537
Christian Georgeou, Incisive Media
212-457-7844
###