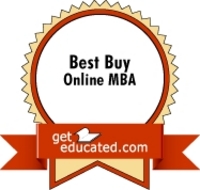 $12,000 may sound like a lot of money
Essex Junction, VT (PRWEB) March 5, 2008
The average cost for a regionally accredited online MBA: $20,528. "But," warns educational analyst Vicky Phillips, "consumers can pay as little as $7,000 or as much as $45,000. The best deals will go to consumers who research online education providers thoroughly."
Where can consumers turn to find their best buys in online MBAs, and who offers some of the worst deals in distance education?
GetEducated.com surveyed 168 accredited distance MBAs: 91 of these offered by graduate business schools accredited by one of the regional accreditation boards.
GetEducated's survey of 91 regionally accredited MBAs revealed learners in the United States should be prepared to pay as little as $7,065 or as much as $45,000 for a regionally accredited distance grad degree in business administration (MBA).
Premiering at the number one ranked "most affordable" spot this year is Chadron State College (Nebraska), a public institution with a modest cost of $7,065 for an online MBA degree, regardless of the learner's state of residency.
Athabasca University, a public institution located in Canada, but approved to award degrees in the USA, topped the price chart at an estimated cost of $45,000 for tuition and fees for American learners.
Every school on GetEducated's list of Top 40 Ranked Best Buys in Online MBAs - Regionally Accredited costs less than $20,000.
GetEducated.com's Top 40 Ranked Best Buys in Online MBAs - Regionally Accredited is archived online at Best Buy Online MBA, Regional
Consumer Tips: Selecting Best Online MBA
"Consumers searching for their Best Buys in online education should start by considering public universities in their own back yards," says Phillips.
Brand name, brick and mortar, public universities continue to dominate GetEducated.com's list of highly ranked values in online learning. "Ten years ago most distance degrees came from universities few had heard of. Today, the best online degrees are being granted by universities that have been helping people get educated for a hundred years or more," comments Phillips.
GetEducated's top ranked values include names that have earned the trust of consumers and employers alike. Most are publicly-supported universities that have ported their degrees nationwide using online delivery.
Many publicly-supported institutions offer the same low tuition they offer state residents to learners everywhere. A distance MBA from California State University Dominguez Hills, for example, costs $12,000 for all learners, regardless of their state of residency.
"$12,000 may sound like a lot of money," says Phillips, "but in truth the average regionally accredited MBA costs $20,500. CSU costs $8,500 less than the national average. Consumers need to know that a quality MBA need not cost them their life savings."
GetEducated's top ranked values in regionally accredited distance MBA business schools include, among others, California State University, Western Governor's University, Fort Hays State University, Baker College, Empire State College - State University of New York, Upper Iowa University, Excelsior College, Northcentral University, and Troy University.
"Fort Hays State," comments Phillips, "is an excellent example of a public institution that has found its niche online." The university appears on several of GetEducated's Best Buy lists.
"Their brand motto is Affordable Success," comments Phillips, "and that is exactly what they deliver by offering solid programs like their MBA at a cost of about $14,800. $14,800 is $6,000 less than the national average for a distance MBA. No one could argue that this institution does anything less than meet the stated promise of its brand. As a result, learners nationwide benefit."
Free Guidebook to Distance MBAs
Consumers can explore all their online business school options by downloading a free copy of the clearinghouse's 2008 guidebook to accredited online business schools, GetEducated.com's Best Distance Learning Graduate Schools, Business, Management and Online MBAs, available at Best Distance Learning Graduate Schools, Online MBAs
About: Founded in 1989, GetEducated.com, LLC is the safest place in cyberspace to shop for an online degree ™. In a nationwide effort to help consumers get educated about quality online learning the clearinghouse publishes and disseminates free ratings and rankings of online universities. The clearinghouse operates the Diploma Mill Police, (SM), a FREE online degree accreditation verification service designed to help protect online learners from educational fraud, and publishes a series of 100% FREE ebooks to online colleges.
CONTACT: Goldie McPike, Information Services, GetEducated.com, Essex Junction, VT. 05452. 802-899-4866. Website: GetEducated.com
# # #