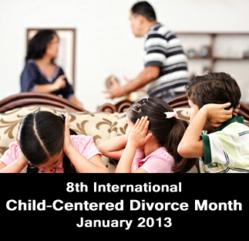 More divorces are initiated in January, following the holiday season, than in any other month.
Carson City, Nevada (PRWEB) January 03, 2013
OnlineParentingPrograms.com is part of a growing group of professionals who will participate in International Child-Centered Divorce Month. International Child-Centered Divorce Month will be commemorated in January. The entire month is dedicated to alerting parents about the effects of divorce on children – especially the impact of parental decisions on their children during and long after a divorce and OnlineParentingPrograms.com is proud to be involved for the fourth year in a row.
More divorces are initiated in January, following the holiday season, than in any other month. Rosalind Sedacca, Divorce & Parenting Coach and founder of the Child-Centered Divorce Network, chose January to commemorate ICCD Month every year. Rosalind has brought together professionals across the globe to participate and educate parents about how to prevent negative consequences for children during and after separation or divorce.
A special website has been created where parents may access free ebooks, coaching services, videos, audio programs and other valuable tools. In addition, parents have access to free workshops, teleseminars, webinars and other special events being held during January on the Events Calendar.
"I am thrilled that divorce professionals around the world will be joining us to bring a heightened awareness to parents about their responsibility to their children's well-being before, during and after divorce," says Sedacca. "Our purpose is education and mistake prevention. We want to encourage respectful co-parenting, discuss the painful consequences of parental alienation, teach effective communication skills, and guide parents away from litigation-based solutions," she adds.
Michelle Muncy, Education and Planning Director for OnlineParentingprograms.com, says, "We are excited to be supporting this cause and bring about awareness to help families and children as they deal with this transition. Rosalind has been a huge support and advocate for our program and we are happy to have an opportunity to be a small part of this important event."
Sedacca can be contacted at Rosalind(at)childcentereddivorce(dot)com. To visit her website, where she provides free articles, her blog, coaching services and many valuable resources for parents transitioning through divorce and beyond, go to: http://www.childcentereddivorce.com. For more information about International Child-Centered Divorce Month plus access to all the free gifts and special events taking place in January visit: http://www.divorcedparentsupport.com/ebook.
OnlineParentingPrograms.com is dedicated to supporting families in transition. We work with experts across the country to provide online education programs when mandated by the courts. For more information on our experts or for additional questions regarding Extended Learning Center, Inc. visit OnlineParentingPrograms.com.
Media interested in setting up an interview with Extended Learning Center, Inc. representatives regarding the online program should contact Michelle Muncy, Education and Planning at 866-504-2883 or Michelle(at)OnlineParentingPrograms(dot)com.