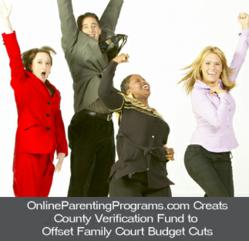 we are working with these counties to further define how we may be able to offset workloads while still providing a positive impact on parents
Carson City, Nevada (PRWEB) September 27, 2012
OnlineParentingPrograms.com has been providing online family education programs to family courts across the country for over four years. During this time, counties have been adjusting to budgets which have been cut or spread thin between departments and programs. Court mandated programs are still being enforced and family courts are looking to outside services for help. OnlineParentingPrograms.com has been working with counties nationwide to examine creative options to aid in closing the gap and assist in offsetting the cost to both counties and parents. Two such programs that have been recently implemented by OnlineParentingPrograms.com as a service to family courts are free/discounted classes to qualified parents and a County Verification Fund.
The County Verification Fund is a program which assesses a processing fee to parents and allotted to the designated county or family court of record. Along with detailed reports, tracking parent information specific to their county, funds are distributed quarterly to appropriate departments. Any county or family court that accepts OnlineParentingPrograms.com, simply notifies OnlineParentingPrograms.com of their interest and they are enrolled. Counties or family courts who do not wish to receive the funds directly may obtain a waiver and receive a promotion code to offer free classes to qualified parents.
"Our goal, as a company, has been to provide a variety of programs and benefits to our counties. More family courts across the country are embracing online co-parent education and OnlineParentingPrograms.com is working with these counties to further define how we may be able to offset workloads while still providing a positive impact on parents. This is all in an effort to keep those parents out of court," stated Sarah Rutkowski, Sales Director at OnlineParentingPrograms.com.
"We are taking the burden off the county to have to staff and maintain quality parenting programs," Rutkowski adds, "With over 18,000 parents having taken one of our programs; we have a clear track record of offering relevant information proven to impact co-parents long term. The beauty about our program is that county officials are able to confidently recommend our program knowing information has been researched, tested and it is consistent from state to state so parents are learning the same materials. In 2012, as headlines discuss, continuing budget challenges are putting a huge burden on courts. We are thrilled to be able to offer solutions which assist in supporting counties across the country."
OnlineParentingPrograms.com is dedicated to supporting families in transition. We work with experts across the country to provide online education programs when mandated by the courts. For more information on our experts or for additional questions regarding Extended Learning Center, Inc. visit OnlineParentingPrograms.com
Media interested in setting up an interview with Extended Learning Center, Inc. representatives regarding the online program should contact Sarah Rutkowski in the development planning office (866-504-2883 or sarah(at)OnlineParentingPrograms(dot)com).