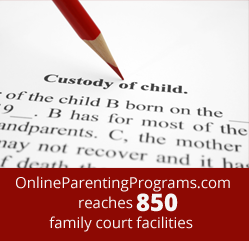 Today, over 850 counties across the United States are accepting OnlineParentingPrograms.com
Carson City, Nevada (PRWEB) October 18, 2012
OnlineParentingPrograms.com is now the fastest growing online co-parenting program on the internet as today it was reported they have reached 850 accepted family court facilities across the nation. With the subsequent backlog on divorces and other Family Law matters, there is increased interest in low cost programs to aid in relieving pressure. The development and well-being of children due to separation or divorce should be of paramount concern, therefor mandatory co-parent education is essential to improve the lives of families throughout this country. OnlineParentingPrograms.com is a researched based program made available as a free resource to counties across the country.
OnlineParentingPrograms.com has seen a swift growth compared to just a few years ago as court officials are coming to grips with the need to offer new and innovative services while they struggle with extreme budget cuts. Offering online programs is one way they are able to reduce costs while still providing helpful education to parents that will create a long term impact.
"The flexibility, convenience and growing acceptance of online education are creating a new trend in how parents going through transition attend classes and earn their court mandated certificates. Today, over 850 counties across the United States are accepting OnlineParentingPrograms.com and the numbers continue to grow weekly. The ability for the anytime, anywhere, for a lot of them is the difference between being able to go to complete the mandated program or not," stated Sarah Rutkowski, Director of Sales for OnlineParentingPrograms.com. "Online programs offer parents the flexibility to finish their class at their own pace and this is something most in person classes don't offer. Hence, there are a number of parents who prefer the online programs to the regular brick-and-mortar classrooms, which leads to an increase in the number of enrollments for online programs." Rutkowski adds, "OnlineParentingPrograms.com has been working with family courts across the country and we have observed many counties adjusting to budgets that have been cut or spread thin between departments and programs. Our goal, as a company, has been to provide creative solutions in an effort to offset these budget gaps without increasing staff workload."
OnlineParentingPrograms.com is dedicated to supporting families in transition. We work with experts across the country to provide online education programs when mandated by the courts. For more information on our experts or for additional questions regarding Extended Learning Center, Inc. visit OnlineParentingPrograms.com.
Media interested in setting up an interview with Extended Learning Center, Inc. representatives regarding the online program should contact Sarah Rutkowski in the development planning office (866-504-2883 or sarah(at)OnlineParentingPrograms(dot)com).