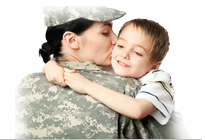 We are grateful to now have the opportunity to support the brave men and women who serve our country.
Carson City, NV (PRWEB) February 14, 2013
In appreciation of active U.S. military personnel's service to our country, OnlineParentingPrograms.com is now offering a two hour class specific to co-parenting in the military. When a military family goes through a separation or divorce, and children are involved, unique issues come up. Better understanding of the complex issues in a military separation, will lead to healthier decisions and positive outcomes. OnlineParentingPrograms.com covers some of the most common issues related to military separation or divorce, and how these cases are not like other divorces, they involve additional legal issues. This is a free elective course available to military service members and their co-parents when they sign up for the court mandated Co-Parenting - Fundamentals of Raising Children Between Multiple Homes program. A separate certificate will be issued certifying that they completed the program that they may then present to their court.
Military divorce rate has reached its highest level since 1999, with nearly 30,000 marriages terminating in fiscal year 2011, according to a December 2011 Defense Department report. Massive troop withdrawals may ironically be to blame for the rising military divorce rate, along with the wear of repeated deployments that strain relationships and alter behavior. Spouses at home and spouses returning often must deal with each other for the first time in years….They may have a difficult time working through marital challenges, and separation of divorce is increasingly seen as the only solution.
This two hour program is designed to be an additional resource to military personnel, to help reverse the statistics; OnlineParentingPrograms.com is working with non-profit agencies across the country to enhance online reunification programs. When our courageous men and women in all military branches come back from war, there are limited resources for themselves and their families. There are numerous issues that need to be addressed in order to support programs which are not readily available.
OnlineParentinPrograms.com researched based programs has had excellent success with assisting parents in transition across the country. Therefore offering assistance to the military through an online medium, may offer great benefit, especially during deployment.
This two hour additional class is an opportunity to learn about topics such as overseas custody and visitation, coming home, military and moving and legal issues specific to military families and is not mandated, but offered free of charge, as enhancement to the required class. OnlineParentingPrograms.com also offers discount to all U.S. military personnel required to attend a parenting program due to separation or divorce.
"We are grateful to now have the opportunity to support the brave men and women who serve our country, and we are proud of the opportunity to give back to veterans since they have given so much to us," said Lori LaVigne, Education Planner for OnlineParentingPrograms.com. "There is truly no way we can properly thank the members of the U.S. Armed Forces for all that they do to protect and serve our country and maintain our country's freedom. This program is a small way we are able to show our respect and support to the soldiers that serve and to help their families by making life a bit easier for them."
OnlineParentingPrograms.com is dedicated to better educating and supporting families. We work with experts across the country to educate families in transition. For more information on our experts or for additional questions regarding Extended learning Center, Inc. visit OnlineParentingPrograms.com.
Media interested in setting up an interview with Extended Learning Center, Inc. representatives regarding the online program should contact Michelle Muncy in the development planning office (866-504-2883 or michelle (at)OnlineParentingPrograms(dot)com).