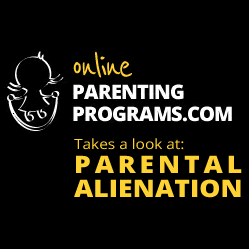 Children who have lived through a parental alienation are at risk of becoming targeted...
Carson City, Nevada (PRWEB) June 21, 2012
Online Parenting Programs.com today announced the integration of Parental Alienation, a new 45 minute section to their mandated online co-parenting programs. Parental alienation deprives children of their right to be loved and expressing love for both of their parents. Family courts are beginning to recognize and notice Parental Alienation as a form of child abuse, as the alienating strategies used on the children are disturbing, confusing and often frightening, and rob children of their sense of security and safety.
Parental Alienation is accomplished through:

Bad mouthing the other parent in front of the child
Creating impression targeted parent is dangerous or sick
Saying targeted parent doesn't love the child
Discussing court case and child support issues with child
Limiting visitation
Forcing your child to reject targeted parent
Undermining targeted parents authority
Not providing targeted parent with school, medical, activity information about child
Intercepting calls and messages
"An alienating parent may seek emotional comfort and support from their children. They may be seeking validation for pain and anger against the co-parent and turn to their children," said Lori LaVigne, Education Director for Online Parenting Programs.com. "An example of this behavior would be trying to persuade your children to take sides with you against your co-parent or speaking negatively about your co-parent in front of the children. Many alienating parents are very angry and disapprove of their children having a healthy, loving bond with the co-parent, and they express this message of disapproval to their children in both obvious and subtle ways."
Research has indicated that it is common for some form of parental alienation to take place right after you and your co-parent initially separate, due to anxiety, anger, and frustration with life changes, and feelings of loneliness that arise when your children are staying with your co-parent. It is when you allow yourself to get caught up in anger and retaliation that things become potentially destructive for your children. Working together with Joseph Goldberg, a recognized expert in parental alienation and a family law consultant assisting parents, children and legal authorities in resolving parental alienation dynamics, Online Parenting Programs.com has integrated this new Parental Alienation section into their court mandated four hour online parent education program. "I am proud to be a contributing author to this mandated court program and I want to acknowledge Online Parenting Programs.com for their seminal achievement in educating parents on the dynamics of parental alienation. Years from now future generations will be thanking you for saving children from this form of abuse."
"This issue is paramount for Mr. Goldberg and we are happy to be working together on this project to further the awareness of parental alienation." added Lavigne. "Children who have lived through a parental alienation are at risk of becoming targeted, rejected parents themselves. Adult children of parental alienation may end up rejecting a relationship with their alienating parent (if they come to realize they were manipulated by their alienator into losing a relationship with a parent that was truly deserving of their love and affection)."
Online Parenting Programs.com has also integrated an expanded Parental Alienation section which is available in the 6, 8 or 10 hour programs. All of the information regarding parental alienation and Parental Alienation Syndrome (PAS) may be viewed by registering for any of the online co-parenting programs located at OnlineParentingPrograms.com.
Mr. Goldberg is a member of the Parental Alienation Study Group, headed by psychiatrist Dr. William Bernet. Mr. Goldberg is also the founder of the largest international organization hosting conferences on parental alienation. For more information or to contact Mr. Goldberg at http://www.ParentalAlienation.ca
OnlineParentingPrograms.com is dedicated to educating families in transition. Guided by a strong development team, OnlineParentingPrograms.com works with experts throughout the United States to provide its members with the most comprehensive information and resources for educating and raising children between multiple homes. For more information about Online ParentingPrograms .com and its team of experts, visit http://www.OnlineParentingPrograms.com.
Media interested in setting up an interview with OnlineParentingPrograms.com representatives regarding the online program should contact Lori Lavigne in the development planning office (866-504-2883 or lori(at)OnlineParentingPrograms(dot)com).