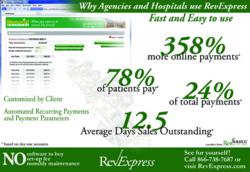 RevExpress is the quick and easy solution for online payments for anyone that sends out invoices or statements
Muncie, IN (PRWEB) February 29, 2012
RevSource Solutions, a leader in online personalized payment solutions, recently announced a partnership with Merchant Solutions International, Inc., a leader in merchant processing services, to provide clients with RevExpress to streamline online payments. RevExpress automates personalized online payments to increase and accelerate revenue while increasing staff efficiencies and offering custom branded websites with single, multiple or recurring payment parameters per client.
"RevExpress is the quick and easy solution for online payments for anyone that sends out invoices or statements," commented Peter Concannon, President at Merchant Solutions International, Inc. "Clients increase their speed, volume and efficiencies when using RevExpress."
"We are proud to partner with Merchant Solutions International, Inc. because of their stellar reputation and services in their markets," said Paul Smith, president at RevSource Solutions. "We applaud their impeccable commitment to their customers, and support bringing new technologies to enhance their customer's efficiencies and profitability."
To learn how you can increase and accelerate revenue, visit http://www.RevSourceSolutions.com or email info(at)revsourcesolutions(dot)com.
About RevSource Solutions:
RevSource Solutions, LLC headquartered in Muncie, Indiana has developed innovative and efficient receivables management and revenue cycle enhancement solutions. RevExpress utilizes secure, personalized websites to increase and accelerate revenue. The Company facilitates the management of payments, processing, remittance, e-mail confirmations, demographic data and insurance updates all in a single online solution. Clients representing market sectors include Healthcare, Collection Agencies, Financial Institutions, Law Firms, Charitable Organizations, and Membership Organizations.
About Merchant Solutions International, Inc.:
Merchant Solutions International, Inc. is one of the nation's premier merchant service providers. Offering a wide range of products and services, MSII provides merchants the ability to accept all major credit cards, debit/ATM cards, checks/ACH and electronic gift cards in retail, mail order/telephone order, ecommerce and mobile environments. Representatives are available 24 hours a day to answer any questions regarding your account. Your satisfaction is our primary concern.
RevSource Solutions, RevExpress and respective logos are trademarks of RevSource Solutions, LLC. Other company and product names may be trademarks of their respective owners.
Media Contact:
Paul G. Smith
765/744-3443
pauls(at)RevSourceSolutions(dot)com
###