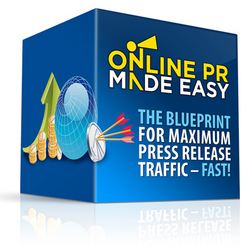 The Online PR materials I saw on the web were quite fragmented. An ebook here, a video or audio interview there. This new, easy to consume digital PR program is a complete step-by-step system. So it not only eliminates any guesswork but also integrates the best practices knowledgebase I've been building since 2004
Dallas, TX (PRWEB) June 24, 2010
The online marketing landscape continues to experience severe content overload. Here are the facts: in one 24-hour period, over 900,000 blog posts are published. Over 28,800 hours worth of video is added to You Tube. And marketers wonder why their content or web PR doesn't connect. That's why Marc Harty, an Online PR Strategist, wants to set the record straight.
Known on his PR blog as the 30-minute PR Guy, Marc Harty's online PR training event demonstrates proven methods to get seen online. "Online PR Revealed: How to Attract Business and Buzz in the Visibility Economy" webinar offers insights for beginners and marketing pros alike.
As Mr. Harty shared, "The Online PR materials I saw on the web were quite fragmented. An ebook here, a video or audio interview there. This new, easy to consume digital PR program is a complete step-by-step system. So it not only eliminates any guesswork but also integrates the best practices knowledgebase I've been building since 2004"
As evidence, his company boasts the largest video training library on the web today for Online PR, with 20+ hours of tutorials. Thousands of business professionals have benefitted from such comprehensive training.
As Chris Brisson of PowerLaunchIt.com shared, "In the past 6 months alone, three online press releases I've created with Marc's guidance generated over 1.5 million views." Jim Bowman, "The PR Doc" and former VP of Corporate Communications for Nokia, Inc., added, "This is not just for do-it-yourself but the public relations professionals as well."
The real benefits of utilizing the Online PR Made Easy system include:

How to create "SEO-friendly" online press releases that generate web site traffic for weeks, months, even years
How to create online content with "staying power" and generate more leads, credibility, and backlinks for higher search engine rankings
A proven system that can easily and affordably reach the "super influencers" such as the media, major industry organizations and "authority sites" that attract millions of monthly visitors
While Online PR Made Easy contains a wealth of "press release how to" information, another component of this Web PR program has proven extremely popular: special negotiated discounts with top press release distribution sites like PRWeb.com and eReleases.com
Online PR Made Easy also includes a proprietary story generation formula to boost results for blog, article, and social media content as well. Harty explained, "At it's core, Online PR Made Easy will help boost performance of the entire process: content creation, distribution and conversion."
To discover how anyone at any skill level can generate thousands of dollars in publicity, as well as consistent web site traffic and qualified leads, register now for "Online PR Revealed: How to Attract Business and Buzz in the Visibility Economy." http://www.onlineprmadeeasy.com/onlinetraining
About Marc Harty:
Marc Harty is an Online PR Strategist and developer of the Online PR Made Easy system. Marc is CEO of MainTopic Media, Inc., a ROI-driven, marketing consultancy and training company. Marc and MainTopic have trained tens of thousands of people, and hundreds of businesses on digital PR and how to attract and convert sustainable, targeted, ready-to-buy traffic to their websites.
Author of "Strategic Traffic: 21 Time-tested Traffic Methods At $0 Ad Cost," Marc's career spans 25 years in Strategic Marketing and has generated over $239 million dollars for customers and clients. http://www.MaintopicMedia.com
# # #