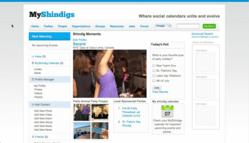 MyShindigs treats online privacy as a priority and facilitates real world interaction...
Boston, MA (PRWEB) November 27, 2012
In a recent New York Times article written by Somini Sengupta, Facebook was quoted as saying 'Facebook is a community where people use their real identities.' The article went on to decry fakery on Facebook and how it is undermining the company's value to advertisers. This reality was part of the reason behind MyShindigs.com co- founders Jason Andrews and Matthew Tautt creating a social media website that allows its users to have a choice as to whether or not to maintain anonymity online.
'We've heard a countless number of stories whereby people have lost jobs or had relationships end due to indiscriminate photos being posted on various social networking sites. It didn't matter that these photos misrepresented situations or were taken out of context while out in a social setting. We realized that users of social media deserve the right to protect themselves and be given the option to use their real names or a shindig alias that they created. We wanted to give our members the opportunity to keep work and social life separate' Say site co-founders Jason Andrews and Matthew Tautt.
MyShindigs creates a safe socializing environment in which there is no need for fakery or multiple fake profile creation since everyone is on the site for the same purpose of creating and attending events. Three security levels of event creation allow for further separation from prying eyes as well as the option to not tag photos. However host ratings and commentary is permissible as are all features that facilitate fun, entertaining, and successful events.
MyShindigs is an events and social software that facilitates socializing, living life, enjoying good company and connecting with peers that share similar interests through open, closed or private parties and events. Through comprehensive site search functionality people are able to find events, parties, and groups that are of interest to that user of the social software. 'At the core of the online experience and what we offer our members, is a choice to be as anonymous or as public as they wish. At the same time we encourage users to reach out to new groups of friends who might share similar interests' add Jason and Matthew.
With a conservative projection of close to 85 million fake Facebook profiles; MyShindigs is a true safe haven for the online community. Amid this social networking alternative, MyShindigs offers a unique advertising opportunity for marketers by allowing brands, celebrities, musicians, etc to host events and insert themselves within social environments in more meaningful, memorable and interactive ways. MyShindigs pays close attention to the privacy concerns of its members. The up and coming website has created tools to offer users a safer, more private online experience than other sites. As a result, users and members of the site have confidence to be able to connect online without the fear of losing jobs or negatively affecting relationships through photos and videos that are viewed and taken out of context.
Everyone is part of a group of friends and these friends typically meet in social settings. Among the things that bind friends new and old together are lifestyle choices, interests, culture, and music. These groups are interested in getting together on a social level with other like-minded groups of peers to expand social networks, strengthen bonds and advance social calendars. MyShindigs treats online privacy as a priority and facilitates real world interaction in a setting that is as anonymous or public as members wish.
About MyShindigs
MyShindigs is a social networking platform that specializes in allowing members to plan, organize, manage, promote and broadcast their public, private and company events and parties. MyShindigs allows users to search out, share, follow and join each other's events and parties of interest to expand their social calendar throughout their lives. For more information, visit http://www.myshindigs.com.