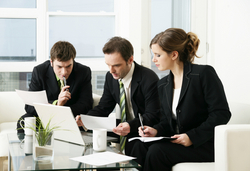 Dubai, UAE (PRWEB) April 28, 2009
New research on online recruitment has been published today by one of the Middle East's largest Internet recruitment firms.
The first-ever publication of its kind, the study provides an in-depth analysis of online recruitment from an employer perspective, a comparison with traditional recruiting channels in terms of performance and cost, and a framework for companies to develop their online recruiting strategy.
The study, entitled "Recruiting Online: A Guide for Decision Makers", was released by online recruitment firm, GulfTalent.com. It is aimed at senior decision makers, including top managers of companies and those responsible for setting and executing talent acquisition strategies.
The study provides a cost-benefit analysis of online recruitment, demonstrating that using online recruitment, the length of the hiring cycle can be cut to around 10 days. Additionally, it shows that total recruitment cost per hire can be reduced from as much as USD $20,000 per hire using traditional channels to under USD $2,000 online, a saving of 90 percent.
Such cost savings are particularly attractive to companies in the current economic climate, given the pressure on human resource departments to reduce costs and to meet their targets with fewer resources.
The study also seeks to dispel several myths about online recruitment in the Middle East - including a common belief that senior managers, Arabic speakers or Gulf nationals cannot be recruited effectively online. By analyzing data from its database of over 1 million candidates, GulfTalent.com's study shows that over 37% of Middle East online candidates hold managerial positions and 35% are Arabic speakers, including 8% who are Gulf nationals.
According to the study, a key factor driving the growth of online recruitment is the fast-growing Internet penetration in the region, which has now reached critical mass in most countries.
Country Total population (millions) Internet penetration
---------- --------------------------------- --------------------------
UAE 5.6 49%
Qatar 1.4 43%
Lebanon 4.0 40%
Bahrain 1.1 35%
Kuwait 3.6 35%
Saudi Arabia 24.9 23%
Jordan 6.1 18%
Egypt 77.1 13%
Oman 2.8 10%
The study goes on to provide a framework for companies to develop their online recruitment strategy - including how human resource departments can best be organised to maximise the companies' return on investment from online recruitment.
According to GulfTalent.com, although online recruitment has been available and widely used in the Middle East for several years, it remains heavily under-utilised relative to its potential, because top managers are not always aware of its benefits or are not fully informed of how to deploy and use it effectively.
By investing in this pioneering research initiative, GulfTalent.com hopes to increase knowledge of online recruitment across the Middle East, and to help expand its use in the region to the levels seen in developed economies. GulfTalent.com's study is downloadable free of charge from the company's website, http://www.gulftalent.com .
GulfTalent.com is the Middle East's leading online recruitment portal, with a database of over one million professionals covering all sectors and job categories. It serves as the primary source of both national and expatriate talent to over 2,000 employers and recruitment agencies across the region. Headquartered in Dubai, GulfTalent.com covers the markets of Saudi Arabia, Kuwait, Qatar, Bahrain, Oman, Egypt, Lebanon, Jordan and the United Arab Emirates.
Source: GulfTalent.com
###