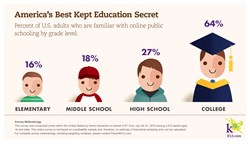 you have more options than you may think
Herndon, VA (PRWEB) August 15, 2013
K12 Inc. (NYSE: LRN), the largest provider of proprietary curriculum and online pre-K through 12th-grade school programs, today released the results of a new poll conducted online by Harris Interactive on behalf of K12 Inc., indicating online learning – while relatively well-known as a higher education alternative – remains one of the best-kept secrets in education for elementary, middle school and high school students. The results also indicate a strong majority believe elective and AP® classes, if not offered in a physical school, should be made available online for credit toward graduation.
K12 Poll Results & National "Tipping Point" (see corresponding GRAPHIC)
Findings of the Harris Interactive poll commissioned by K12 Inc., include:
Elementary School: Only 16% of U.S. adults are very or somewhat familiar with the fact free public schooling is available online for elementary school-aged children.
Middle School: The percentage of U.S. adults familiar with the possibility for middle school students to attend public school online is only slightly higher at 18%.
High School: Despite the fact that tens of thousands of students are taking high school classes online, a mere 27% of U.S. adults are aware that free public online school options exist. By contrast, 64% of U.S. adults are familiar with online school options for college.
Elective & AP: Americans are open to students taking elective classes online and having them count toward graduation credit. Over four in five U.S. adults (84%) agree with this idea. They are also very receptive to students taking AP classes online for credit if they aren't offered at their existing school with almost nine in ten (87%) agreeing with this notion.
Role of Teachers: When it comes to the future, nine in ten Americans (90%) believe teachers who embrace technology and utilize highly engaging, interactive curriculum will thrive in the future.
Consent for Blended Model: Over four in five U.S. adults (85%) agree schools should be able to provide a mix of online and traditional classroom activities if optimal for learning.
The results come at a time when K12 Inc. feels there is an ensuing national "tipping point" of awareness and demand for online public school options. This is also the time when thousands of online students across the country are receiving their school supplies for the 2013-2014 school year (image gallery). With online education, school can be delivered to the student regardless of his or her geographic location.
"While still relatively new, there's no question online education options are on the front-end of a national 'tipping point,' as more parents and students realize one of the best-kept secrets in education is that you have more options than you may think when it comes to where and how you go to school," commented Matt Arkin, the head of school at the K12-operated Georgia Cyber Academy and an education leader with two degrees from Stanford University. "We're working hard to transform the public education system for all of our students. The rigor and individualization of a high-quality and engaging online education can be a real winning combination for many students."
Information on the difference between online public school and home schooling, including factors to consider when choosing an online school, can be found on the education company's website, K12.com. To find and enroll in an online school, refer to this interactive map: http://www.k12.com/enroll-or-buy/find-a-school-and-enroll/.
Survey Methodology
This survey was conducted online within the Unites States by Harris Interactive on behalf of K12 Inc. from July 29-31, 2013 among 2,013 adults ages 18 and older. This online survey is not based on a probability sample and therefore no estimate of theoretical sampling error can be calculated. For complete survey methodology, including weighting variables, please contact press(at)k12(dot)com.
About K12 Inc.
K12 Inc. (NYSE: LRN) is leading the transformation to individualized learning as the nation's foremost provider of proprietary technology-powered online solutions for students in pre-kindergarten through high school. K12 has worked with more than 2,000 school districts and has delivered more than 4 million courses over the past decade. K12 provides curricula, academic services and learning solutions to public schools and districts, traditional classrooms, blended school programs and families. K12®'s curriculum is rooted in decades of research combined with 21st-century technology by cognitive scientists, instruction designers and teachers. K12's portfolio of more than 550 unique courses and titles – the most extensive in the technology-based education industry – covers every core subject and four academic levels for high school, including Honors and AP. K12 offers credit recovery courses, career-building electives, remediation support, six world languages and a deep STEM offering. The K12 Program is offered through K12 partner public schools in more than two-thirds of the states and the District of Columbia, and through private schools serving students in all 50 states and more than 110 countries. More information can be found at K12.com.
© 2013 K12 Inc. K12 is a registered trademark of K12 Inc. All other trademarks are the property of their respective owners.