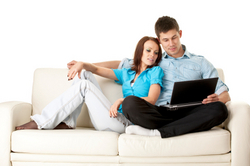 The mission at mytherapycouch.com, according to Jutta Morris, is to "create a therapeutic, virtual community of individuals with a focus on nurturing and compassionate guidance".
Palm Beach Gardens, FL (PRWEB) November 23, 2010
In recent past decades, local support groups were popular for providing connectivity for many people facing mental health and emotional challenges. Today financial, travel, geographical and time constraints make it difficult to access that type of group support. Increasingly people are turning to the internet to benefit from online community connections and collective healing. And now, they can connect with qualified, professional therapists, as well.
The brain-child of experienced psychotherapist Jutta Morris, and staffed by professional licensed clinical therapists from around the globe, mytherapycouch.com is a website that gathers together people with a wide range of concerns from anxiety disorders, bereavement, addictions to relationship troubles. The new online therapy site, launched in July of this year invites people to share their personal concerns and struggles with others in a supportive group environment and forums but also provides access to trained practicing psychologists and therapists.
Aside from being convenient and time-efficient, this new model is more cost effective than face-to-face counseling and protects one's anonymity, according to Jutta Morris, founder of mytherapycouch.com. While direct counseling through on-line communication is not intended to replace traditional therapy, nor is it suitable for at risk clients, recent research suggests that on-line therapy can be effective. After conducting a study on cognitive-based therapy delivered online by qualified therapists, one of the world's leading medical journals, The Lancet reported positive results for those suffering from depression.
The fact that online therapists represent different parts of the globe adds an international element that will appeal to people from various cultures. "I felt we needed to make it easier to reach out and to bring people together", explains Jutta Morris who resides and practices in Florida "People from around the world may not share specific cultures but we do all share the emotional fabric and the need to be part of a supportive community. We all share the need to feel safe in expressing ourselves and asking for help."
Of particular interest are its services offered to veterans. Increasing numbers of war veterans are reporting symptoms of Post-Traumatic Stress Disorder and those numbers are expected to increase as global conflicts continue. Yet, studies show that many vets suffer alone or find no support from mainstream medicine. Mytherapycouch.com hopes to connect to these vets providing a forum for them to discuss common issues and receive one-on-one counseling from professionals familiar with this misunderstood and often overlooked disorder.
While some people will visit this online counseling service website for an immediate issue others will become part of the support circles and forums that address longer-term concerns. The site provides a number of ways for visitors to interact with each other and with the staff through two models of interaction: the community forums and groups focused on specific issues of concern and the direct online counseling through the website with a specialist.
Based on input from professional IT consultants, the new site combines several successful features from popular online sites like Yahoo! Answers. Participants can respond to each others' questions, with the most helpful responses being rewarded through a ranking system.
"This not only encourages thoughtful responses to people's questions but gives people a sense of ownership and personal reward for sharing their unique wisdom with others", says Gideon Kimbrell, Director of I.T. People can respond to questions, follow a group and participate in forums but what makes mytherapycouch.com unique is the ability to communicate directly with a clinical professional who responds privately through the secure website.
The therapists each have areas of expertise dedicated to individual issues so those seeking specific answers will be matched up to an appropriate expert. Through the direct counseling service, a person can communicate with a counselor who promptly responds.
"The ability to have one-on-one contact in a secure and non-threatening format is something many have never had an opportunity for. Finances, travel considerations, even shyness prevents many people from meeting with counselors in brick and mortar settings."
The mission at mytherapycouch.com, according to Jutta Morris, is to "create a therapeutic, virtual community of individuals with a focus on nurturing and compassionate guidance".
Every therapist contracted with the site is a fully licensed clinical or counseling psychologist with a minimum of 3 years of clinical experience in their home country. The site is a member of the International Society for Mental Health Online. Registration is free.
If you'd like more information or to schedule and interview please contact:
My Therapy Couch Inc.
Contact Persons;
Jutta Morris President and Co-Founder
Gideon Kimbrell Director of I.T and Co-Founder
Office Address;
1 Main Street Suite 200
Tequesta, FL 33469
Telephone;
Jutta Morris (+1) 561-317-7389
Gideon Kimbrell (+1) 561-386-3720
E-mail Addresses;
Jutta(at)mytherapycouch(dot)com
Gideon(at)mytherapycouch(dot)com
Website address
http://www.mytherapycouch.com
###