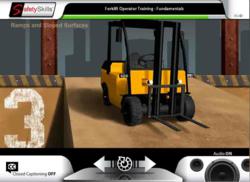 Oklahoma City, OK (PRWEB) January 11, 2013
noodleStream.com, the maker of SafetySkills®, is offering the Forklift Operator Training online safety course for free during the month of January. The National Institute for Occupational Safety and Health's (NIOSH) investigations of forklift-related fatalities or injuries conclude that many workers and employers are not aware of the risks of operating a forklift and are not following the regulations set forth by OSHA, census standards, or equipment manufacturer's guidelines. Reducing the risk of forklift incidents in your operation requires comprehensive worker training, systematic traffic management, a safe work environment, a safe forklift and safe work practices. Forklift certification by OSHA guidelines is mandated in three parts: formal instructional training, practical hands on training and evaluation of performance in the workplace. This course series will comply with OSHA guidelines for formal instructional training. Be sure to click here to view all of the courses available in the SafetySkills® Forklift Training Series.
The SafetySkills® team has designed, developed and deployed a powerfully easy SCORM-compliant learning management system with nearly 300 affordable courses. Their customers vary from oil and gas companies, municipalities, healthcare, food service, manufacturing, biotech, insurance companies and more. SafetySkills® courses provide a front of the seat safety training experience. Courses include 3D animations, simulations and complex navigation structures designed to demonstrate the concepts, engage the learner and ensure comprehension and retention of the course materials presented. All of SafetySkills® courses and learning management system are designed, built and maintained here in the United States.