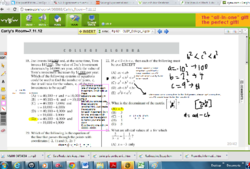 ...Analyzing regression equations may not be the worst way to spend the night.
Los Angeles, CA (PRWEB) July 17, 2012
It was a long day at work. The kids are clamoring. There's barely enough time to breathe. It's impossible to fit in time for class work. Actually, it isn't. The Stimulus Effect has expanded its customized online tutoring hours; now, busy professionals can get the individualized assistance they need from 5am to midnight (or even later), 7 days a week.
With professionals serving as a significant portion of The Stimulus Effect's clientele, the company felt it needed to modify its services to better meet their needs. And, from the response of the company's clients, they have. "At first, it was difficult going back to school, finding time to do homework, and still have time for the kids…fitting in time for tutoring made it even more overwhelming. But, The Stimulus Effect's flexible schedule has made it a lot easier…Now, the MBA doesn't seem out of reach," said Mark, a sales representative in Denver. Diana—a social worker in Indianapolis pursuing her MPA—had similar success. "An A on a stats final? That seemed ridiculous. Without sessions at 11pm (and a couple of times even later), it wouldn't have happened…analyzing regression equations may not be the worst way to spend the night." Apparently, The Stimulus Effect's efforts to be there for clients—and offer customized tutoring at a time that meets their needs—has paid dividends.
How is The Stimulus Effect flexibly meeting clients' needs and schedules? "The company has clients all over the country; so, it's necessary to synchronize services and operations for various time zones," said Arziki Phenyo, The Stimulus Effect's founder. "Therefore, a number of tutors are available—across the country—to accommodate this demand. Consistency is very important in the instructional process; so, a tutor who will be regularly available is matched with the student before he or she begins the program. In addition, these flexible schedules will enable The Stimulus Effect to meet the needs of international clients." And, aside from offering tutoring in finance, accounting, statistics, and many other subjects--along with thesis and dissertation guidance--throughout the day, The Stimulus Effect's customized services offer other benefits:
∙ Engaging tutoring that's tailored to clients' goals and interests
∙ Instruction that's centered on students' unique learning styles and modes of understanding
∙ Dynamic content and media that reinforces core principles and concepts
∙ Nurturing, knowledgeable professionals who are always available to offer guidance and clarity
The company's services seem to be working. The median average for the Stimulus Effect's undergraduate and graduate clients is 94, and it's poised to increase another 2% over the summer.
In these challenging economic times, an in-demand degree and cutting-edge skills are among the best assets a professional can have. These schedules enable busy professionals to build these marketable skills, even in the midst of hectic lives. Life doesn't run from 9 to 5. Neither should education.