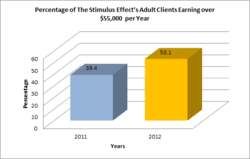 The FBI just made an offer for a management position, and another one might come...next week.
Los Angeles, CA (PRWEB) July 30, 2012
For the last few years, it's been a struggle to pay the mortgage or the rent. Saving doesn't even seem like an option. And, all the aspirations of years ago seem like fantasies. There may still be a way to realize those dreams—education. A number of The Stimulus Effect's clients have used the skills they developed in their graduate work—and refined during customized tutoring sessions—to gain top positions in the summer of 2012, even in a challenging economy.
"Being a graduate student and working full-time requires a lot of discipline, and it's definitely paying off," said Sherwin, a program manager at ICE who lives outside Washington, D.C. "The FBI just made an offer for a management position, and another one might come from NAVAIR next week. This would not have happened without God's grace, diligent dedication to courses, a focus on building in-demand skills, and the encouragement from my tutor at The Stimulus Effect." Shauna, a recent law-school grad in Minneapolis was also able to land a promising position. "Reading all the headlines and talking to friends, it seemed scary. Thinking about obtaining a top position at a top firm seemed impossible. But, in graduating within the top 5 of the 2012 class, and refining the resume and cover letter—with the tutor's guidance—it seemed totally attainable. A top firm in the city—with an emphasis on intellectual property—made an offer. The future's looking great now." Here are other positions and offers The Stimulus Effect's clients have obtained during the summer:

Senior Analyst at the Social Security Administration
Assistant Director of Patient Accounts at Mt. Sinai in New York
Seed funding for a new restaurant in Denver, CO
It seems from this record, that The Stimulus Effect is helping clients find ways to succeed.
"In working with the clients, the emphasis is placed on what can be done, and in many ways, making the impossible seem well within reach," says Arziki Phenyo, The Stimulus Effect's founder. "Even with clients who have experienced failure in the past, there are particular talents and assets they bring that can help them contribute to an organization's future growth and success. The priority becomes guiding them to develop those skills while in school, and then building the confidence to leverage them in the job market." These curricular emphases have helped The Stimulus Effect guide clients to achieve their goals:
1) Development of in-demand professional skills in the "Road to the Corner Office" program
2) Focus on building strategic analysis through statistics and finance tutoring
3) Concentration on developing critical- and creative-thinking abilities through writing, business planning, and editing services
4) Effective instruction that guides clients to build skills through content tailored to needs and goals
5) Delivery of convenient services that flexibly meet clients' schedules and busy lives
Added to the success The Stimulus Effect has already experienced this summer, clients are being considered for promotions in New York State government, teaching positions at leading universities, and junior analyst positions at brokerage firms. It's evident that tutoring services from The Stimulus Effect are geared not only toward helping clients succeed in school; more importantly, it is guiding them to be dynamic players in the economy.