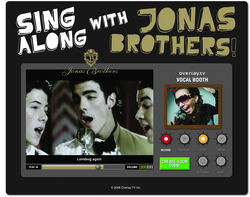 Brands have been experimenting with ways to engage audiences through video for years. Traditional approaches to online content are static, and purely consumer-created media is a huge risk for advertisers
Ottawa, Canada (PRWEB) December 4, 2008
Jonas Brothers, the internationally acclaimed platinum recording artists that first climbed to the top of the charts in 2007, have found a new way to connect with their fans using a new online vocal booth application from Overlay.TV. Starting today, and for a limited time only, fans of the Jonas Brothers will be able to sing-along with the band online to the video for their latest single, "Lovebug," in this first-ever use of interactive video technology.
The band's label, Hollywood Records, and Overlay.TV both refer to the project as a first for online video tools and a new medium for fan interaction. Both companies are looking to extend this capability to other Disney recording artists.
"Response to the Jonas Brothers Sing A Long has been fantastic and bringing fans new, highly innovative experiences within these online video tools provides a fun and engaging way to express creativity and interact with the bands they love," said Brian Ressler, for Hollywood Records. "Kids have always loved singing along with their favorite stars, and now we're giving them a chance to share that with the world."
The Jonas Brothers' Overlay.TV Vocal Booth redefines the meaning of interactivity in online music videos, allowing fans to jump right into the action with their very own rendition of an additional vocal track for their latest single, "Lovebug." All fans need in order to participate is a webcam and a microphone. At http://www.jonasbrothers.com/singalong/, fans can record their very own vocal accompaniment to the Jonas Brothers and they can do it as many times as they want. Once saved, their submissions are reviewed by our panel for appropriate content, and are then made available to the world on the Jonas Brothers' official website.
Rob Lane, CEO of Overlay.TV, believes that this level of video interaction is an indication of where online video is going.
"Brands have been experimenting with ways to engage audiences through video for years. Traditional approaches to online content are static, and purely consumer-created media is a huge risk for advertisers," said Lane. "This project really does build on the promise of Overlay.TV to engage online video audiences in a whole new way, and now lets them share that experience with the millions of Jonas Brothers' fans worldwide."
The interactive application will be available online at http://www.jonasbrothers.com/singalong/ on December 4, 2008.
About Jonas Brothers
The Jonas Brothers are a VMA-nominated multi-platinum selling band. Hailing from Wyckoff, New Jersey, Kevin Jonas, Joe Jonas, and Nick Jonas have become a pop culture phenomenon. They have released three albums: It's About Time (2006), Jonas Brothers (2007), and A Little Bit Longer (2008).
About Hollywood Records
The Disney Music Group encompasses all of the Walt Disney Company's recorded music and music publishing operations, including Hollywood Records, Walt Disney Records, Lyric Street Records, Carolwood Records, and Walt Disney Music Publishing.
About Overlay.TV
Overlay.TV is a privately held interactive media company headquartered in Ottawa, Canada. Overlay.TV provides an interactive video platform that enables brands and content owners to better engage audiences through video, integrated interactive widgets, and tools that allow everything from hyperlinks to video-in-video mashups.
Links
Press Room - http://www.overlay.tv/about/press
Electronic Press Kit - http://www.overlay.tv/press_kit/EPK.pdf
Blog - http://blog.overlay.tv/
# # #