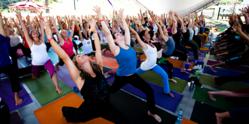 "YogaVibes is grateful to play a role in letting people relive their experiences at Wanderlust or experience it for the very first time via the Internet and online streaming videos," said YogaVibes.com founder Brian Ratté.
Davidson, N.C. and New York, N.Y. (PRWEB) February 07, 2012
Itching to relive your Wanderlust Festival experience of summers past? This year, you don't have to wait until the warmer months to get a taste of the one-of-a-kind yoga and music festival set within the nation's most inspiring scenery. For the first time ever, Wanderlust is coming to you.
Thanks to an exclusive partnership with YogaVibes.com, yoga enthusiasts can now click a mouse to enjoy yoga classes from Wanderlust's outdoor festivals taught by some of the world's top yoga instructors.
About 30 yoga classes filmed at Wanderlust celebrations in Squaw Valley USA in North Lake Tahoe, Calif. and Stratton Mountain in Stratton, VT are now available for purchase at YogaVibes.com. These classes feature some of yoga's hottest stars, including Rod Stryker, Rolf Gates, Schuyler Grant, Sianna Sherman, John Friend, Dana Flynn, Janet Stone, Tommy Rosen and Kia Miller.
As part of this ongoing partnership, yoga classes from upcoming Wanderlust festivals will be distributed online at YogaVibes.com, bringing these revolutionary yoga retreats from the mountain tops to computer screens, TVs, tablets and smart phones everywhere.
Adding Wanderlust's one-of-a-kind classes to YogaVibes' growing library of online yoga videos is a natural fit, said company founder Brian Ratté, because both Wanderlust and YogaVibes focus on creating community and connections within the diverse yoga world.
"Wanderlust has redefined what it means for the yoga community to get together," he said. "YogaVibes is grateful to play a role in letting people relive their experiences at Wanderlust or experience it for the very first time via the Internet and online streaming videos. We are excited to share these premier teachers with our customers around the world."
Wanderlust festivals combine yoga, music, art, lectures and more, creating central gathering points for the larger yoga community. Since debuting in 2009, Wanderlust has expanded to several festivals each year and has been featured in The New York Times and Yoga Journal, among other publications.
Wanderlust yoga classes are unique, showcasing world-class instruction in beautiful, outdoor settings.
"We have long wanted to capture our yoga experience and offer it to those who are not able to attend our events," said Wanderlust Co-founder Sean Hoess. "We are thrilled that our partnership with YogaVibes will make that a reality, and we look forward to expanding our offerings of classes and teachers in the years to come."
Click here to purchase Wanderlust online yoga classes from YogaVibes.com today. To experience Wanderlust Festival firsthand, tickets are now available at http://www.wanderlustfestival.com.
About YogaVibes.com:
YogaVibes draws on the exciting diversity of studios around the world, filming inspired teachers in a real-class environment. We believe in the beauty and power of each teacher's voice and feel honored to be the vehicle to share their gifts with a wider audience. YogaVibes makes yoga and movement accessible to anyone by offering classes of various styles, intensity, and duration. No matter your schedule or location, the benefits of yoga are as close as your computer through YogaVibes.com.
About Wanderlust:
Wanderlust Festival, LLC is a producer of large-scale lifestyle festival events focusing on yoga, music and wellness. Its flagship festival, Wanderlust, was first launched in California in 2009 and has become the largest multi-day yoga event in the world as well as a significant player in the larger US festival market. The company was founded in 2009 as a joint venture between Velour Music Group, an artist management company and event producer based in New York City, and C3 Presents and Starr Hill Presents, event producers responsible for the top music festivals in the country, including Austin City Limits Festival, Lollapalooza, Bonnaroo and Outside Lands.
###