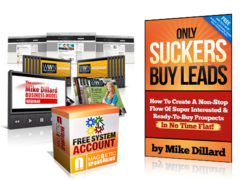 When your audience sees you as an expert who wants to help, instead of a sales person after a dollar, they will gladly come and pursue you as soon as they are ready to make a purchase
Austin, Texas (PRWEB) January 14, 2013
Magnetic Sponsoring announced that Internet Marketing Legend Mike Dillard has released his new book "Only Suckers Buy Leads" for free between Saturday, January 12 thru Wednesday, January 16, 2013, at 11:59pm PST at the official Magnetic Sponsoring Website.
After January 16, the book will be sold through Amazon at full retail price.
The key to success, according to Mr. Dillard, in today's market is this: "If you're going to sell something to someone, you've got to find a way to get invited into their world as a welcomed guest instead of an intruding pest."
"When your audience sees you as an expert who wants to help, instead of a sales person after a dollar, they will gladly come and pursue you as soon as they are ready to make a purchase."
In addition to the free preview period, Mike Dillard is also giving away three incredible bonuses worth a total of $373.

Bonus 1- Automated Lead Capturing System. Users will receive access to the most revolutionary Lead Generation System available today. This system will allow marketers to take their business to a whole new level by utilizing the state of the art automation that will turn cold prospects in to hot and ready to join leads. This bonus is valued at $19.95 per month.
Bonus 2- Behind the Scenes Look At An 8 Figure Business Model Video Training. This straight to the point video training by Mike Dillard will detail the psychology behind the creation of Magnetic Sponsoring, the #1 publishing company in the Internet Marketing Industry.
Bonus 3- Full 30 Day Access to 'What's Working Now' Product. This is a private invitation to discover the latest online marketing and recruiting secrets for those seeking to market their business online. Included is live webinar trainings with top industry experts detailing advice on how they built their business.
"I love the fact that Mike wrote 'Only Suckers Buy Leads' as an eBook because this allows Mike to include and incorporate so many of his kick butt trainings into video format," says Magnetic Sponsoring's Business Developer Nick Haubner. "You can't do that in a traditional book! Where else can you tap into the wisdom of an 8 figure income earner in both the written word and video and still receive $373 of bonuses? You'll make yourself sick if you don't jump all over this puppy."
To download a free copy of "Only Suckers Buy Leads" and receive $370+ worth of bonuses, visit this link before Wednesday, January 16 at 11:59pm PST.