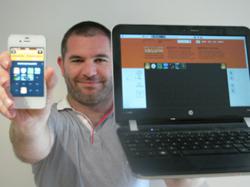 It's a quirky solution but I believe it will make it very simple to discover, explore and ultimately purchase apps
Melbourne, Victoria (PRWEB) November 22, 2012
Melbourne based web developer Norman Rozental has 1,414 answers to the one problem that faces thousands of app developers, which is getting their apps discovered. Utilising his entrepreneurial nature, Norman has come up with an ingenious way of giving iOS developers a platform on which to showcase their apps by purchasing advertising space on his new app discovery site only1414apps.com. Why the number 1,414? Norman tells us.
"Like most aspiring entrepreneurs, it would be nice to make my first $1m. When I initially had the idea for the site, I realised that adding the numbers 1 through to 1414 adds up to 1,000,405 - the only sequence of numbers adding up to just over $1m. This is when the grid of advertising app icon 'blocks' concept first began to take shape.
The cost of an app icon block is shown within the empty app icon block and is priced sequentially starting from $1 to $1,414. The idea is that when the 1,414 advertising spaces have been sold to developers, I will reach the $1m ($1,000,405) goal while also helping out app developers get their apps discovered".
"Each block, once sold, will house an app icon where potential purchasers can view information about the app and watch a video clip of the app in use. Should they decide to purchase the app, clicking a button will take them directly to the app in the App store. It's a quirky solution but I believe it will make it very simple to discover, explore and ultimately purchase apps".
Since the sites soft launch 10 days ago, Norman has averaged an impressive sale a day by emailing app developers explaining his concept and the potential benefits of purchasing an app icon block.
Quirky solution accomplished. One million dollars? Surely on its way...
Notes to Editor:
Website: http://only1414apps.com
Blog: http://blog.only1414apps.com
Press images: http://only1414apps.com/press
PDF press release: http://only1414apps.com/press/press-release.pdf