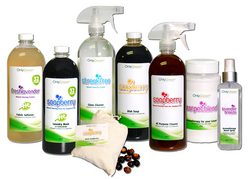 We now have the knowledge and capability to produce world class products that work as well as chemically based products and at a competitive price"
Midland (PRWEB) December 3, 2009
OnlyGreen has just launched a complete line of natural cleaners and cleansers to add to their portfolio of products. These new cleaners and cleansers are 100% biodegradable, hypoallergenic, and free of phosphates or synthetic fragrances.
The OnlyGreen cleaning products have been formulated using pure and natural sources, while keeping quality, cleaning power and consumer value in mind. Most of OnlyGreen's cleaning products were developed using the natural SoapBerry which is a fruit that grows on the Soapberry tree. Many cultures around the world have used it for centuries as a natural cleaning agent. The Soapberry fruit contains naturally occurring saponins that provide effective cleaning power that is safe for consumers, their families and the environment. Added to the SoapBerry is a host of other natural and organic ingredients to create a cleaning line that OnlyGreen is proud to offer.
OnlyGreen's Cleaning Line includes the following products:

SoapBerry Laundry Wash
SoapBerry Dish Soap
SoapBerry Multi-Purpose Cleaner
Fabric Softener – in Fresh Lavender and Fresh Linen
StreakFree Glass Cleaner
Aromatherapy Room Spray – in Peppermint-Cucumber, Coconut-Mandarin, Lavender Breeze, Heaven Scent, and Citrus
Aromatherapy Carpet Blend
"Our new natural cleaning products are the result of our research and manufacturing capability. We now have the knowledge and capability to produce world class products that work as well as chemically based products and at a competitive price" said Norman Dodd, President of OnlyGreen. Each product is produced at OnlyGreen's manufacturing facility in Midland, where the company is based. As a standard practice, OnlyGreen provides a complete list of ingredients on all product labels even though it is not required in Canada or the United States.
After only 6 weeks on the market, OnlyGreen's cleaning products have already exceeded sales expectations. "When I was working at a school fundraising bazaar and two cute boys from the school green team wanted to help me sell some product." says OnlyGreen EcoAdvisor, Susie Schiering. "They took the Soapberry Glass Cleaner and cleaned some of the school windows to show people how well a natural cleaner worked. Another vendor came right up afterwards and bought one! It was awesome!"
The OnlyGreen Cleaning Line is made available exclusively through OnlyGreen Independent EcoAdvisors across Canada and the United States.
For more information, please go to http://www.onlygreen.com/products-1/house-and-home/
To contact Susie Schiering, OnlyGreen EcoAdvisor, please go to http://ea.onlygreen.com/susieq
About OnlyGreen:
OnlyGreen is the first Direct Selling Company to offer a complete range of consumer product alternatives that promote a healthier lifestyle and a cleaner environment. Using a six step Product Selection Criteria, the company is dedicated to providing products that do not contain harmful chemicals, can be reused or recycled and that have virtually no impact on the environment when disposed of properly. Through their team of Independent EcoAdvisors, located across North America, OnlyGreen helps consumers make informed purchasing decisions as they transition into a greener lifestyle.
###