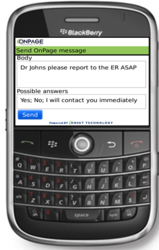 We have to keep our customers' best interest in mind as they rely on us to deliver their critical messages under any circumstances, including the rare occasion of an outage in the RIM Push.
-- Judit Sharon, CEO
Waltham, MA (PRWEB) July 11, 2012
Onset Technology, the creator of OnPage™, released today the latest version of its secure priority messaging and pager app for Blackberry, increasing reliability for its customers. After a couple of push failures at Blackberry RIM (RIMM) back in February and April of 2012, OnPage decided to create a redundant solution that would decrease downtime and outages for its customers in the future.
"RIM's push services are generally very reliable," says Judit Sharon, CEO and President of Onset Technology. "However, we have to keep our customers' best interest in mind as they rely on us to deliver their critical messages under any circumstances, including the rare occasion of an outage in the RIM Push. We explored a couple different ways of achieving message redundancy. However, being a HIPAA compliant service, the only viable option was to build a poller mechanism similar to our Android client."
In the past, OnPage relied on RIM to push out all the notifications to the various Blackberry devices. This resulted in outages to OnPage customers when RIM went down. Now, with its latest update, OnPage no longer relies solely on RIM to push out the notifications, but instead also pulls the notifications from the servers periodically. This new redundant client allows OnPage to have greater control over the notifications and ensures complete redundancy to customers for their critical messaging needs.
OnPage benefits include:

An enticing user experience that makes paging fast and efficient.
Continuous alert until acknowledged.
Confirmed receipt of delivery and read.
End-to-end encryption that protects private messages from prying eyes.
Streamlined messaging with inbox, outbox, reply, and message status that makes it easy to confirm and track paging trail.
"In-app" messages that let communications also take place exclusively from inside the OnPage application.
Phone book sync that automatically draws OnPage contacts from a user's smartphone contacts.
One-touch responses that allow users to reply to messages with just a tap by sending predefined responses (i.e., "In a meeting," "Get back to you in 15," "With a patient," etc.).
Blackberry users who want the most reliable version of OnPage can download the latest version from the Blackberry App World or directly from the OnPage site.
OnPage works over cellular communication as well as WiFi. With hospitals, secured law enforcement facilities, financial institutions, and entire cities covering themselves with wall-to-wall WiFi, Onpage is sure to work even in areas with poor cellular coverage.
OnPage currently supports Apple iOS, BlackBerry OS, and Android. For more information, visit the OnPage website at http://OnPage.com/.
ABOUT ONSET TECHNOLOGY
Onset Technology is a leading vendor of mobile messaging solutions to organizations with mission-critical emergency communications requirements. The company's OnPage mobile app turns iOS, BlackBerry, and Android smartphones into secure digital pagers, supported by an enterprise-grade messaging and paging platform. Onset Technology's OnPage is now used by over 1,000 organizations, including those in healthcare, emergency services, information technology, financial institutions, the legal profession, and government agencies. For more information about OnPage, visit the OnPage site at http://www.OnPage.com.