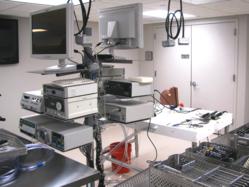 Research and teaching facilities around the world are continuously seeking ways to make surgeries less invasive and improve outcomes
Greenwich, CT (PRWEB) May 02, 2012
After just four years of planning and fundraising, the ONS Foundation for Clinical Research and Education, a Greenwich Hospital alliance, has completed the construction and outfitting of a state-of-the-art Arthroscopy, Surgical Skills and Biomechanical Laboratory. The half million dollar facility, located on the lower level of the medical offices of ONS at 6 Greenwich Office Park on Valley Drive, will make it possible for surgeons to perform medical research for the study and development of arthroscopic surgical techniques, and to teach arthroscopic skills to medical students and surgeons. According to orthopedic surgeon and founder of the ONS Foundation for Clinical Research and Education Dr. Paul Sethi, having this facility provides the ultimate opportunity for physicians to critically evaluate or compare arthroscopic surgery techniques in a laboratory setting. He fully expects the lab to become a center for medical innovation.
Arthroscopic surgeries, done with specially designed instruments through tiny incisions, have become the gold standard for many orthopedic and neurosurgical procedures. Surgeons use a miniaturized camera called an arthroscope to guide the surgery and instruments. Working through small incisions poses great benefits for patients including less blood loss, less muscle trauma, shorter hospital stays and a faster return to normal activity. "Research and teaching facilities around the world are continuously seeking ways to make surgeries less invasive and improve outcomes," said Dr. Sethi. "As the population ages, the need for better ways to address musculoskeletal conditions and injuries is increasingly important."
"In addition to being a place where the ONS Foundation surgeons can work and conduct research, much of the activity in the lab will be devoted to teaching advanced arthroscopic techniques," added Dr. Sethi, who is a member of the American Shoulder and Elbow Surgeons, an association devoted to the continuing education of physicians. "The lab offers a destination for medical students and surgeons from around the world to perform traveling fellowships on arthroscopic techniques."
ONS Foundation surgeons and teaching physicians from across the country will conduct professional programs year round for interested surgeons to receive training on various arthroscopic techniques. Such programs serve to encourage young arthroscopists, foster mutual exchange among physicians practicing arthroscopy while focusing on practical issues in arthroscopic procedure and promotion of quality control in such surgeries.
Work in the lab gets underway in the beginning of May when a team of surgeons from Germany arrives to study sports injuries with Dr. Sethi, shoulder specialist Dr. Seth Miller and hip arthroscopy expert Dr. Tim Greene. Also this May, a group of American surgeons will study total ankle replacement. In June, surgeons visiting from China will study techniques in knee arthroscopy.
During the summer, seven interns from universities around the country, including Columbia, Lehigh, Princeton, and Villanova, will work in the lab on a variety of research projects. Funds to build the Arthroscopy, Surgical Skills and Biomechanical Laboratory were raised through fundraising events on behalf of the ONS Foundation, Foundation Board member Milton Sender, Greenwich Hospital, and Leon Lowenstein Foundation, Inc. on behalf of Joanna B. Schulman.
ONS Foundation for Clinical Research and Education, Inc. is a registered not-for-profit, 501(c)3 organization devoted to understanding the causes and optimal treatments of orthopedic injuries and musculoskeletal conditions. The ONS Foundation, in alliance with Greenwich Hospital, strives to improve standards of excellence for the treatment of musculoskeletal disorders through clinical research, physician and patient education, and community outreach programs. The Foundation sponsors injury prevention and other seminars throughout the year. The office is located at 6 Greenwich Office Park, 10 Valley Drive, Greenwich, CT. For further information about the ONS Foundation, visit http://www.ons-foundation.org or call (203) 869-3131.