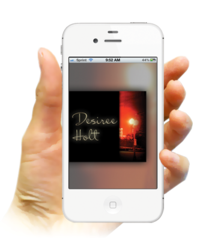 For the month following the downloads of my app, my book sales tripled and quadrupled depending on which book I checked.
Houston, TX (PRWEB) June 15, 2012
Onseeker® Technologies recently debuted a powerful new mobile tool for any author at any level - from self published to best selling authors, and everyone in between. Over the past few months Onseeker® has worked with authors of all genres and calibers to develop a mobile platform that would bring immediate value to authors looking for a new marketing opportunity. The team at Onseeker® debuted their mobile platform at the popular Romantic Times conference in Chicago in April 2012, and saw an immediate interest from authors looking for unique ways to market themselves.
"I don't care if you have one book or a hundred books out, an app will work for you," commented Desiree Holt, a prolific romance author in attendance at the RT conference. "Everyone today has a phone that's always in their hands. With an app I can showcase my books, video trailers, bio, all of my links and events - I can even send a notification to everyone who's downloaded it. There is no better way to market yourselves to readers on-the-go."
Shortly after the event in Chicago, dozens of authors began contacting Onseeker® to build their iPhone and Android apps.
"Our core focus is helping authors sell more books. When we ask what they're doing to market themselves, most mention relying heavily on Facebook or Twitter and not much else," mentioned Frank Danna, Communications Director at Onseeker®. "When the author builds a smartphone app it becomes all about them. It eliminates the noise and distractions that social media can sometimes cause, and becomes an exclusive way for fans and readers to connect with - and support - their favorite authors".
Deisree continues, "From opening the app to selecting a book and tapping buy, it takes less than 10 seconds. There's no faster way to shop for books. For the month following the downloads of my app, my book sales tripled and quadrupled depending on which book I checked."
When it came to price, Onseeker® Technologies wanted to make sure that something as cutting edge as a mobile app could also be affordable to authors on a shoe-string budget. "If an author wants an app on one platform (either iOS or Android) it's just $25 a month. If they want it on both devices, it's a $35 per month investment. With no setup fee and minimal pricing obligations, most authors ask us when the hidden fees start popping up," mentions Roy Gonzalez, COO at Onseeker®. "They're very pleased when we respond with 'there aren't any.'"
Onseeker® Technologies wanted to help authors spend more time writing and less time marketing. WIth an app, authors can showcase their books, events, social news and more from iPhone and Android devices. Each author can login and make changes to their app from any computer, with the changes happening on their app instantly.
Remarks Desiree, "In terms of marketing costs, this isn't even 1/100th of what I've spent and I've gotten so much more for it. Plus it's the only advertising opportunity that can measure real-time returns. If you're not an app yet - do it. I'm an app, and I'm happy with it!"
To learn more about Onseeker® Technologies, please visit http://www.onseeker.com. If you're interested in learning more about the Author App, please visit: http://www.onseeker.com/apps-author-about.html
About Onseeker® Technologies: Onseeker® Technologies is one of the largest mobile app developers in the United States. With over 120 apps developed, they continue to provide their clients exceptional apps at remarkable prices. Onseeker® excels in providing platform based apps for sports teams, churches and ministries, authors, radio stations and restaurants. They've also developed custom applications for internet radio and fashion companies looking to go mobile.
Media Contact:
Frank Danna
281-664-7951
http://www.onseeker.com