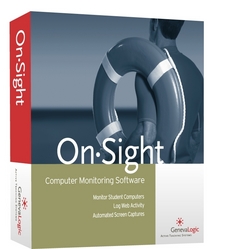 Recognition by the readers of 'District Administration' confirms our belief that On-Sight is the type of Internet monitoring software that today's educators want and need to keep their students safe in cyberspace
Portland, Ore., & Langenthal, Switzerland (PRWEB) March 25, 2008
On-Sight school computer monitoring software from GenevaLogic was named one of the Top 100 Products of 2007-2008 by the readers of "District Administration." Launched just last July at the National Educational Computing Conference, On-Sight is an innovative tool that helps educators keep students safe when they use computers and the Internet during the school day.
Reaching more than 75,000 educators each month, "District Administration" covers current trends and pressing issues in the K-12 education industry along with emerging technologies and leadership issues for district-level administrators. In each issue, "District Administration" presents products, books and materials of importance to its readers, culminating in a year's-end Top 100 Products. For the first time, the 2007-2008 Top 100 Products were selected by "District Administration's" readers and published in a special February issue of the magazine and on its Web site.
"Recognition by the readers of 'District Administration' confirms our belief that On-Sight is the type of Internet monitoring software that today's educators want and need to keep their students safe in cyberspace," said Kirk Greiner, chief executive officer, GenevaLogic. "It is exciting to have our technology honored by the education leaders who read 'District Administration.'"
On-Sight monitors and records student online activity and computer use, helping teachers and administrators ensure it conforms to school and district acceptable use policies. Custom reports and automatic screen shots provide educators with the information they need to guide responsible student computer use. In addition, On-Sight helps schools receiving E-rate discounts to comply with the Children's Internet Protection Act's (CIPA) requirement that the online activities of minors be monitored for acceptable use.
Using On-Sight, schools monitor student computer activity across a school or an entire district. On-Sight helps teachers identify students who are participating in risky computer use, such as cyberbullying or hacking, and intervene before a situation accelerates and becomes dangerous to the students or others.
The honor from "District Administration" readers coincides with an update of On-Sight that makes the computer monitoring software even easier for schools to install and use.
A free 30-day evaluation copy of On-Sight is available for download at http://www.GenevaLogic.com. Pricing for On-Sight starts at $749 for a school or district with 50 or fewer computers to monitor. Installations of 10,000 clients or more are supported.
For more information, visit http://www.GenevaLogic.com or call 866-725-7833.
About GenevaLogic
GenevaLogic has one passion: enabling educators to manage, control and optimize the use of technology to support teaching and learning. Founded in 1996, with headquarters in Langenthal, Switzerland, and Portland, Ore., the privately held company is an international leader in active teaching systems whose Vision classroom management software is used in more than 50,000 classrooms worldwide. The company's education software solutions - Vision®, App-Control™, Surf-Lock™, Pointer™, Plan-It, Protect-On™, On-Sight™, Print-Limit™ and Print-Limit Pro™ - allow schools, universities and training centers to get more learning value from their technology investments. For more information, visit http://www.GenevaLogic.com.
###